Bound & Babysitting
CAST:
Tammin Sursok
Travis Van Winkle
Lisa Rinna
Stephen 'tWitch' Boss
Maggie (Tammin Sursok) and Alex (Travis Van Winkle) have been butting heads since college when they were introduced by their best friends, Ethan (Stephen Boss) and Elena (Tiffany Hines). Now, their mutual pals are married with children, desperate for a romantic getaway and a babysitter. Uneasy about leaving the kids with the childlike and seemingly irresponsible Alex, they know Maggie would be the mature choice. But, with big things on the horizon for Maggie's company, Ethan and Elena fear she's too busy. As a last minute solution, they decide to split the task, tricking Maggie and Alex into babysitting together and leaving town before they can object. Bound to their obligation, Alex and Maggie attempt to work through their differences, but cooperating quickly turns into stormy rivalry. However, opportunities to teach the children some life lessons bring the pair closer than ever, proving that they share some very similar ideals. Acting as a true family for the first time, both the babysitters and kids are sad to see their time together come to an end with the return of Ethan and Elena. But it's the powerful bond between Maggie and Alex that makes them consider whether breaking up their new-found relationship is what they truly want.
CAST BIOS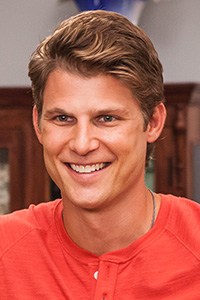 TRAVIS VAN WINKLE (Alex) – Originally born in California but making his way to Hollywood via Georgia, Travis came to L.A. when he was 20 and has been working in the business ever since.
On the TV side, Travis currently is a series regular on TNT's high-octaine drama "Last Ship." Other recent credits included an arc on CW's "Hart of Dixie," a lead in Pixl's "Bound & Babysitting," and various guest stars (highlights include "2 Broke Girls," "Two and a Half Men," "Raising Hope," a recurring role on "Happy Endings," a multi-episode arc on "90210," "Greek," "Veronica Mars," "Campus Ladies," "The OC.")
On the film front, Travis recently shot indie thriller "Rites of Passage" opposite Stephen Dorff and Wes Bentley. He is also being seen in a new (and controversial) series of consumer giant Unilever spots shown throughout AMC's run of "Mad Men"; and also wrapped indie thriller "Bloodwork" opposite Tricia Helfer.
Previous film credits include lead roles in Paramount's "Friday the 13th" (Michael Bay cast him from working with him on "Transformers"), Fox comedy "Meet the Spartans," MGM's "Asylum" (directed by David Ellis) and independent comedy "Last Call" with Ryan Hansen and Christopher Lloyd. Travis was in the first "Transformers," and had a supporting role in Universal's "Accepted."
Travis has been ramping up his philanthropic efforts, creating the Love:Life Foundation to rally others in Hollywood to give both their monetary and time efforts to worthy causes. Love:Life's first charity partner is buildOn, an international organization dedicated to building and empowering primary schools in needy U.S. inner-city and international impoverished locations. Travis will be leading buildOn's "Team Hollywood" to Malawi, Africa and Nepal this year.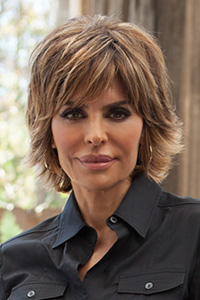 LISA RINNA (Jane) – With her exotic looks, prodigious talent, infectious energy and savvy business acumen, Lisa Rinna has become one of the most recognizable faces in Hollywood.
In the realm of television, few can boast such an enduring and prolific career as small-screen queen Lisa Rinna. Lisa is known to many as Billie Reed, the free-spirited character she played on NBC's daytime hit "Days of Our Lives," as well as "love-to-hate-her" Taylor McBride on Fox's long-running primetime smash, "Melrose Place."
Rinna currently stars in the hit Bravo show "The Real Housewives of Beverly Hills." In 2014, she appeared on ABC's variety competition show "Sing Your Face Off." In 2013, she appeared on the hit NBC reality show, "All-Star Celebrity Apprentice," where she raised over half a million dollars for St. Jude Children's Hospital. She previously participated during the show's fourth season in 2011.
A longtime lover of fashion, Rinna launched her casual and chic line for QVC® in 2012. With the Lisa Rinna Collection, fashion enthusiasts across the country have access to her unique and eclectic taste. The line, which embodies her comfortable West Coast style, stemmed from her boutique shop, Belle Gray, which Rinna owned and operated for 10 years. The boutique was named after her two daughter's middle names, Delilah Belle and Amelia Gray.
An accomplished New York Times best-selling author, Rinna has released three books, entitled The Big, Fun, Sexy Sex Book, Starlit and Rinnavation. In the latter, released in 2009, Rinna reveals her best kept secrets for staying fit, managing weight, looking beautiful, feeling sexy and living the best life possible.
As a fitness fanatic, Rinna released a series of exercise DVDs for Warner Home Video called "Lisa Rinna: Dance Body Beautiful," all of which offer unique high energy cardio workouts created by Lisa and "Dancing with the Stars" choreographer, Louis van Amstel.
Rinna has numerous hosting credits to her name. Most recently, she filled in for Kathie Lee Gifford as guest co-host on the "Today Show" alongside Hoda Kotb and served as Anderson Cooper's co-host on his daytime talk show, "Anderson Live." She's also filled in for Kit Hoover on "Access Hollywood Live," alongside Billy Bush. Rinna previously served as host and fashion expert for TV Guide Network's signature Red Carpet pre-shows at Hollywood's biggest events, including the Academy Awards®, Emmy® Awards, Grammy® Awards, Golden Globe® Awards and Screen Actor's Guild™ Awards. She has also served as a corresponded for "Entertainment Tonight" and "Access Hollywood."
In 2002, Lisa also served as a frequent guest host opposite Regis Philbin, with eight appearances during the "Live with Regis" search for his new permanent co-host. Although Kelly Ripa wound-up with the assignment, the well-received "Regis" appearances caught the attention of the executives at SoapNet, which led to the development of her own successful talk show, "Soap Talk," as well as Lifetime's "Merge." Her work on "Soap Talk" from 2002-2006, earned her nominations for 4 Daytime Emmy Awards for Outstanding Talk Show Host. The hour-long reality series for Lifetime Television entitled "Merge," focused on newly married couples trying to create a home that blends elements of each person's past. Lisa was also seen as a special correspondent for Entertainment Tonight and Access Hollywood.
Lisa's television credits include competing on the hit ABC series, "Dancing with the Stars". She also participated in the national Dancing with the Stars tour. Lisa was seen in a recurring role on the edgy UPN drama series "Veronica Mars," portraying Lynn Echolls, one half of a "movie star" couple, opposite real-life husband, Harry Hamlin. She also appeared as Donna Devaney, a love interest of Johnny Drama (Kevin Dillon), in HBO's Emmy Nominated Series "Entourage". Rinna again shared the screen with Harry Hamlin in the Lifetime Original movie, "Sex, Lies and Obsession" and also starred in "Another Woman's Husband," which boasted one of the highest ratings for any film ever on Lifetime.
Additional television credits include a guest spot on the ABC comedy series "8 Simple Rules," the NBC series "The Hogan Family," and an episode of "Movie Stars" for the WB, the first ever on-screen appearance she shared opposite her husband.
Lisa starred as Roxie Hart alongside her husband Harry Hamlin in the hit Broadway musical, "Chicago." Before joining the Broadway cast on June 19, 2007, Rinna performed with the "Chicago" National Tour.
In 2010, Rinna and husband Harry Hamlin starred in the TV Land original series, "Harry Loves Lisa" which focused on the relationship between Lisa and Harry as they navigated through the highs and lows as a devoted family living a hectic Hollywood lifestyle.
Rinna is a native of Medford, Oregon. She resides in Los Angeles with her husband and two daughters.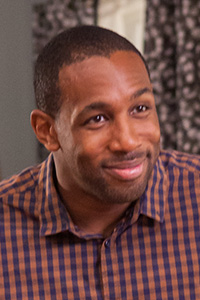 STEPHEN 'TWITCH' BOSS (Ethan) – "So You Think You Can Dance" All-Star, Season 12 'Mentor', and favorite Stephen "tWitch" Boss continues to make a splash with his multitude of talents.
He recently filmed the second installment in the Magic Mike franchise, "Magic Mike XXL," in the role of Malik, which premieres in July of 2015. He also recently starred for the third time as Jason in the popular "Step Up" dance films, with the release of "Step Up: All In" this past August of 2014. In 2015, he will also be seen in the PixL's "Bound & Babysitting", in the role of Ethan.
Along with his work in feature films, he continues his run as Ellen DeGeneres' favorite guest DJ on her hit talk show, "Ellen." Their relationship led to the collaboration of him co-choreographing and artistic directing her 2013 Oscar promo (along with his now wife Allison Holker), directed by "Bridesmaids'" Paul Feig and featuring 250 dancers.
Boss originally won over critics and fans alike with his amazing performances on Season 4 of the popular Fox dance competition series "So You Think You Can Dance," where he captivated audiences with his impressive dancing skills and unmatched charisma. Just short of making the Top 20 in Season 3, he came back in the next year and was redeemed with a spot on the show and the runner-up title. His memorable performance in "Mercy" aka "The Door Dance" alongside Katee Sheen was nominated for a 2009 Emmy award for Best Choreography.
In 2010, Boss was invited back to "So You Think You Can Dance" for a special All–Star Season 7. This season would prove to be a very important year in his career and life, as he met fellow All-Star dancer Allison Holker. She is now his wife. Also that season, his hip hop performance of "Get Outta Yo Mind" with classically trained contestant Alex Wong won the Emmy for Outstanding Choreography. In the season finale, Boss' longtime supporter, TV personality Ellen DeGeneres stepped in for an injured Wong to recreate the award-winning dance for the surprised audience. Boss has continued to dance, choreograph & even judge on subsequent seasons.
Boss was born and raised in Montgomery, Alabama where as a child he was always seen dancing. At times when he wasn't allowed to dance, at school or church for instance, he would resort to "popping and ticking" (a popular hip-hop style of dance) that resembles a twitch to most. That was how he earned the nickname "tWitch."
In 2003, Boss saw an opportunity that he couldn't resist. MTV was casting for a new dance show, "The Wade Robson Project," and he decided to pursue his dream and took his passion for dance to Los Angeles. His entertaining freestyles nabbed him a semifinalist spot and later that year, Boss went on to compete in the popular talent competition television show "Star Search" where he was runner-up. Throughout this time, he attended Chapman University where he continued to study dance.
Boss also co-starred in "Stomp the Yard 2: Homecoming" and the critically acclaimed short "3 Minutes" (www.3minutes-film.com) with Harry Shum, Jr. He has also guest-starred on hit TV series such as "Drop Dead Diva," "Bones" and "Touch."
Boss continues to be on The Board of Directors for The Dizzy Feet Foundation that aims to support, improve, and increase access to dance education for the underprivileged in the United States and is the first dancer to be a Gatorade-endorsed athlete. He is also a newlywed, marrying Emmy-nominated choreographer and dancer Allison Holker on "So You Think You Can Dance" executive producer Nigel Lythgoe's vineyard in December of 2013.