Chasing Leprechauns
Starring Adrian Pasdar, Amy Huberman
A family friendly romantic comedy set in modern day Ireland. A high flying American businessman is sent to Ireland in order to convince the people of a small town that the plan to build a factory there should go ahead. He faces one of the biggest challenges of his career, the land they plan to build on is said to be home to leprechauns.
Michael must try and convince the local expert on the matter to certify the land as free from the little people. His adventure results in comedy, romance and friendship in what becomes a place he can call home.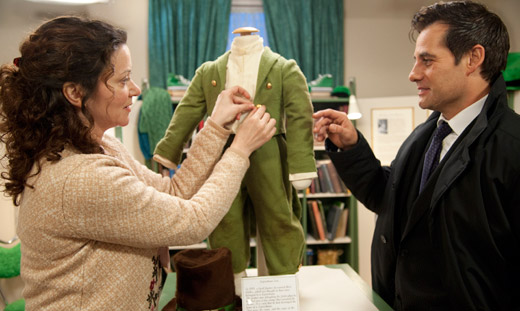 CAST
Adrian Pasdar / Michael
Adrian Pasdar is best known for his role on NBC's ensemble drama series "Heroes" as Nathan Petrelli, Peter's over-achieving brother who pretends Peter is delusional with his fantasies of flight, but, in actuality, Nathan has a secret of his own. He has most recently joined the cast of Kari Lizer's new, yet to be titled NBC workplace comedy, as the leading man opposite actress Sarah Paulson.
On the small screen, Pasdar starred for two seasons on both "Judging Amy" and "Mysterious Ways." He also held starring roles on "Profit" and Dick Wolf's "Feds." He recently recurred on the hit series "Desperate Housewives" as David Bradley, as well as on "Touched by an Angel" as Edward Tanner and "Castle" as Agent Mark Fallon, opposite Nathan Fillion. Pasdar has guest-starred on "The Twilight Zone," "The Outer Limits," "Black Panther" and "Great Performances."
Additionally, Pasdar starred in a variety of television movies, including Lifetime's "Crossing the Line," NBC's "Mutiny" and "House of Frankenstein" and Showtime's "Slave of Dreams," as well as "The Perfect Getaway," "Love in Another Town," "Touched by Evil," "The Pompatus of Love," "Shadows of Desire," "A Mother's Gift," "The Lost Capone" and "Big Time."
Pasdar began his career in "Top Gun" when he was cast as Chipper alongside Tom Cruise, Anthony Edwards and Val Kilmer. Since then, he has starred in films such as "Secondhand Lions" with Michael Caine and Robert Duvall, Brian De Palma's "Carlito's Way" opposite Al Pacino and Sean Penn, "Solarbabies" with Jami Gertz, Jason Patric and Lukas Haas, "Streets of Gold" with Wesley Snipes, "Near Dark" directed by Kathryn Bigelow and "Vital Signs," starring Diane Lane. He also just wrapped the starring role in a cable film called "Garden of Evil" for SyFy.
Behind the scenes, Pasdar has written and directed a short film titled "Beyond Belief" and directed the feature film "Cement," starring Chris Penn and Sherilyn Fenn. He is also a vocalist and guitarist in a band, "The Band From TV," with James Denton, Hugh Laurie, Greg Grunber and Jessie Spencer, which has raised millions of dollars for charity through concerts in the past few years.
Before becoming an actor, Pasdar excelled in football and attended the University of Florida on a football scholarship. After suffering an injury, he turned to acting and eventually studied at the famed Lee Strasberg Theater Institute.
He was born in Pittsfield, Massachusetts, but grew up in a suburb of Philadelphia. Pasdar currently resides in Los Angeles and New York with his wife, Natalie Maines of the Dixie Chicks, and their two children.
Amy Huberman / Sarah
Born and educated in Dublin, actress Amy Huberman is a graduate of University College Dublin and the Dublin Institute of Technology. She made her first appearance on television in a leading role in both series of the RTÉ drama "On Home Ground" while still completing her Masters.
Since then Huberman has gone on to appear as Bella in parts one and two of the made-for-TV movies "Showbands" for Parallel Films/RTÉ and in the Hallmark Channel Original Movie, "Three Wise Women." Other TV appearances include "Dream Team 80's" for ITV, "Camera Café" and BBC's "George Gently." Huberman is perhaps best known as the much-loved regular character Daisy O'Callaghan in the last six seasons of "The Clinic" produced by Parallel Films for RTÉ television. Huberman recently reprised the role, for which she was nominated for a Best Supporting Actress Irish Film and Television Award in 2008, 2009 and 2010.
Huberman has appeared in numerous short films including "Bad Karma," "Forgetting to Breathe," "George" and "Deep Breaths." Huberman has recently appeared in two independent Irish features in leading roles, as Lucinda in "Satellites and Meteorites" directed by Rick Larkin for iWire Films and as Sally in "A Film With Me In It" opposite Dylan Moran and Mark Doherty for Parallel Films. In 2010, she appeared on RTÉ in the new comedy sketch show "Your Bad Self" and in Channel 4's "Comedy Lab" as various characters.
Huberman is the female lead in the independent feature film "Rewind," which premiered at Ireland's leading film festival, the Galway Film Fleadh, in the summer of 2010. She is married to Irish Rugby International player Brian O'Driscoll.