Cookie Mobster
CAST:
Pippa Black
Rick Malambri
Mackenzie Foy
Lainie Kazan
Tired of being on the wrong side of the law, mobster Joey D'Amico (Rick Malambri) strikes a deal with the FBI to turn over his associates. Much to his dismay, the FBI places him in the witness protection program. As Sunnydale's newest resident, Joey "Tannebaum" finds himself far from the life he's accustomed to. But this quaint community starts to grow on him after meeting his neighbor Amanda (Pippa Black) and her young daughter Sally (Mackenzie Foy). Amanda leads the Sunny Girls troop, currently embroiled in a bitter rivalry with another troop. This year they're determined outsell their competitors with their homemade cookies. There's just one problem…the troop's baking skills leave much to be desired. Armed with his grandmother's (Lainie Kazan) delicious cookie recipes, Joey has the chance to save the day and happily lends his services to Amanda and the girls. The more time he spends with Amanda the more Joey envisions a new life in Sunnydale. But with his former partners hot on his trail, Joey's past is in danger of being exposed, jeopardizing his future in Sunnydale.
CAST BIOS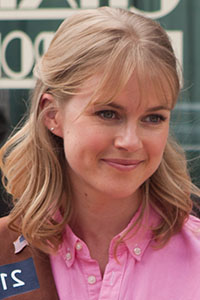 PIPPA BLACK (Amanda) – Pippa Black will soon be seen as the female lead in the independent film, "Mind Puppets," about a hypnotist who collapses in the middle of his act leaving his audience in a state of seemingly permanent hypnosis. The film also stars Vinnie Jones and Kevin Pollack.
Black is perhaps best known for her role in the NBC comedy series, "Outsourced," starring as Tonya, a beautiful Australian running the Koala Air call center in India, who catches Todd's (Ben Rappaport) eye. Other television credits include guest starring roles on the TNT series, "Perception," as well as the USA series, "Royal Pains." She has also recurred on "Law & Order: SVU."
Black recently starred in the HBO short film, "Run," directed by Jamal Caesar, as well as the Australian film, "Lemon Tree Passage." Her other film credits include the independent film, "My Funny Valentine."
Originally from Australia, Black began her career with roles in the Australian drama "Secret Life of Us" and "Last Man Standing." She then went on to secure the lead role of Elle in the internationally acclaimed television series "Neighbours." She was on the show for three years and garnered a nomination for a Logie Award (Australia's version of an Emmy) in 2006.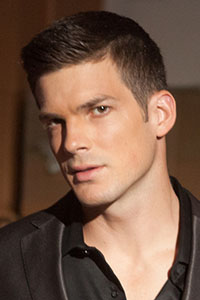 RICK MALAMBRI (Joey) – Rick is best known for his lead role in the third installment of the successful Step Up franchise, "Step Up 3-D." He has also guest starred on venerable TV shows like "How I Met Your Mother" and "Criminal Minds," in addition to an arc on ABC Family's "The Lying Game." You may also recognize Rick from his roles in the feature film "Surrogates" and Hallmark movie "After the Fall."
Born in Destin, Florida, Malambri was always a fan of the arts. "I have always wanted to act, or at least be a performer, ever since I was a little kid. At the age of five I would steal my father's Bryan Adams CD and stand up on the counter top and sing "Summer of '69″ at the top of my lungs."
From the age of seven, Malambri has been addicted to computers, naturally falling into Graphic Design and Animation at college. A self confessed nerd, Malambri considers himself a 'really huge geek on the inside,' knowing much more than he lets on about computer and electronics, with hidden talents in web and graphic designing.
Malambri was spotted on the subway by a talent agent in the summer of 2006. He quickly moved to Los Angeles, landing his first acting job on "How I Met Your Mother" shortly thereafter.
Outside of acting, Malambri is a huge sports fan. He loves to ski, snowboard and is an avid surfer and video gamer.
Malambri would one day love to work with Johnny Depp. "I just want to get a chance to pay attention to his work ethic. His characters are so fascinating and I have always looked up to him and his style of acting."
Malambri currently resides in Los Angeles, California with his wife, Lisa.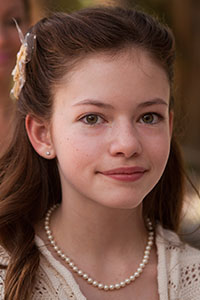 MACKENZIE FOY (Sally) – Mackenzie Foy is quickly emerging as one of Hollywood's most exciting young actresses. With a breakout role in the one of the biggest movie franchises of all time, Mackenzie's body of work continues to evolve with exciting and challenging projects.
Mackenzie can currently be seen starring alongside and all-star cast in the Paramount film "Interstellar." Directed by Christopher Nolan, the film also stars Academy Award Winners Matthew McConaughey, Jessica Chastain and Anne Hathaway. Critics have called her performance in the film "superb," "outstanding" and "impressive."
Mackenzie starred in Summit Entertainment's "The Twilight Saga: Breaking Dawn," directed by Bill Condon ("Dreamgirls," "Kinsey"). She plays Renesmee, the half-vampire daughter of Bella Swan (Kristen Stewart) and Edward Cullen's (Robert Pattinson) whom they must protect from the evil Volturi.
Mackenzie lends her voice talents to a variety of animated feature films. She voices in upcoming film Paramount film "The Little Prince" along with Rachael McAdams, James Franco and Marion Cotillard. She also voices Celestine in the English version of Oscar nominated French film "Ernest & Celestine," a sweet story of an unlikely friendship between a bear, Ernest (voiced by Forest Whitaker), and a young mouse named Celestine. She also voices a character in Boxcar Children.
Her other film credits include the upcoming indie "Wish You Well," about a young girl and her brother who come of age at their great grandmother's house in Virginia during the 1940s. Ellen Burysten plays the grandmother.
Mackenzie's other film credits include the thriller "The Conjuring," opposite Patrick Wilson and Vera Farmiga. Directed by James Wan ("Saw," "Incidious"), the film about real life Paranormal investigators Ed and Lorraine Warren work to help a family terrorized by a dark presence in their farmhouse. "Plastic Jesus," written by Bryan Bertino ("The Strangers") and directed by Erica Dunton. Based on true events, this coming-of-age story is based on a young girl and her older brother, struggling to cope with their mother's illness.
Mackenzie made her television debut when she was eight-years-old on the Fox sitcom "Til Death" and has guest starred on "Hawaii 5.0" and season finale of "R.L. Stine's The Haunting Hour," a fantasy-horror anthology series, similar to the TV series "Goosebumps."
Mackenzie began her career at the age of three in commercials and print, starring in national spots for Pantene, Mattel, Burger King, and fashion campaigns for Gap, Ralph Lauren, Guess, J.Crew, H&M, and Estee Lauder, among others. In addition to acting, Mackenzie enjoys drawing, is a black belt in tae kwon do, and roller-skating.
Mackenzie currently resides with her family in Southern California.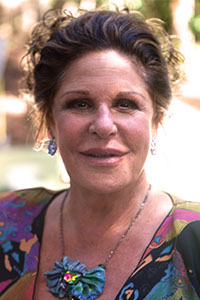 LAINIE KAZAN (Mamma) – Iconic Film and TV actor, she recently filmed Christopher Columbus' "Pixels" with Adam Sandler, Kevin James, and Josh Gad. She's also in talks to star in "My Big Fat Greek Wedding 2." She just wrapped "Pearly Gates" opposite Uzo Aduba ("Orange is the New Black").