Easy Heart
Julie Mond, Trevor Donovan, Shelley Long, Cindy Williams
High school music teacher Beth Landon (Mond) puts herself on the line when she invites world-famous country singer Jason Keith (Donovan) to perform at her rural town's Strawberry Festival.  A one-hit wonder with a horrible rep for cancelling shows and copping an attitude, Jason isn't what Beth's mother, Eileen (Long), considers a reliable musical act for the beloved festival, which she is proudly hosting with her good friend Ruth (Williams).  Beth, reigning as Strawberry Queen, attempts to stick up for her favorite singer, but when she finally meets Jason face-to-face, it becomes obvious it won't be easy.  But behind Jason's rock star image, he's hiding a secret about his past that could turn his tanking career around.  Along with his manager Ray (Jilon VanOver, "Hatfields & McCoys"), Beth convinces Jason the festival gig is a great way to revitalize his career and win back his audience appeal.  As Jason spends more time with Beth, his attitude starts to fade as they each encourage the other to realize their deepest dreams as talented musicians.
CAST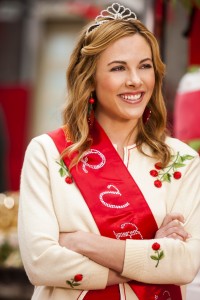 JULIE MOND (Beth Landon) – Julie Mond, a native New Yorker, grew up on Long Island. Drawn to acting at a young age, Mond created variety shows with childhood friends and even made little films in her attic.  She later moved to New York City where she graduated from Barnard College at Columbia University. While in college she appeared in commercials, experimented in the downtown theater scene and studied with some of New York's top acting teachers.

After graduating from Barnard, Mond moved to Los Angeles and quickly began working in film and television.  She is best known for her role as Ellen Barlow in the prequels to the love saga; "Love Begins" and "Love's Everlasting Courage."  Mond also played Dr. Lisa Niles on ABC's long running "General Hospital," Dr. Chase's love interest Moira Parker on "House," and has appeared on "CSI Miami," "CSI NY" and "Cold Case."  Some of her film credits include starring alongside Lea Thompson and Desmond Harrington in the action thriller "Exit Speed," and also alongside Michael O'Keefe and Catherine Dent in the independent film "Neighbors."  Some of Mond's other film credits include the Warner Bros.' horror franchise "Rest Stop Don't Look Back," Focus Feature's "Something New" and Screen Gem's "Priest," as well as several independent films. She also appears in several comedy sketches featured on Will Farrell's "Funny Or Die" website.
In her free time, Mond volunteers with the Young Storyteller Foundation in Los Angeles, where one-on-one mentoring develops literacy through the art of story telling.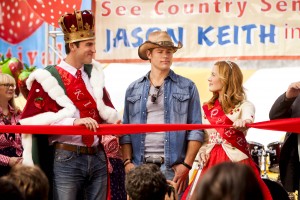 TREVOR DONOVAN (Jason Keith) – Trevor Donovan recently finished a supporting role in the upcoming Oliver Stone directed feature film "Savages."  Prior to being directed by Oliver Stone, Donovan had the privilege to portray Teddy Montgomery on "90210," the intelligent, athletic heartthrob who happens to be gay.  The substance driven storyline dealt with the many complications and struggles of coming out, which included harassment, acceptance and relationships. Donovan's storyline recently ended, but in the time it was on, it grew extremely popular and was well liked by both critics and fans.
Donovan's other credits include a recurring role as Jeremy Horton on "Days of Our Lives" and roles in feature films "Surrogates," "Takers" and "Birds of a Feather."  He has also guest-starred on "CSI."
A native of Mammoth, California, Donovan is a proficient skier and snowboarder.  Each year, Donovan skis with Bobby Kennedy Jr.  in the annual WaterKeeper Alliance downhill charity ski race in Deer Valley, Utah.   Donovan has a bachelors degree in graphic design and is an ambassador for Habitat for Humanity.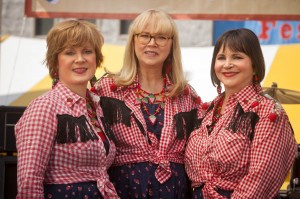 SHELLEY LONG (Eileen Landon) – Acclaimed actress Shelley Long is best known for the character Diane Chambers in the beloved NBC comedy series, "Cheers."  Long won an Emmy® for Outstanding Lead Actress in a Comedy Series in 1983 and received another four nominations in the following years.  She also won two Golden Globes® Awards for Best Supporting Actress in a Comedy Series and for Best Actress in a Comedy Series as well as winning a Quality TV Award for Best Supporting Actress in a Comedy Series in 1986.
Born in Fort Wayne, Indiana, Long enrolled in Northwestern University to study drama, but left to pursue a career in modeling and acting.  In Chicago, she became a member of the celebrated Second City troupe, in addition to writing, producing and co-hosting a popular Chicago magazine program called "Sorting It Out."  The show ran for three years on a local NBC station and won three Emmy® Awards for Best Entertainment Show.
Long is also known for her film roles as Mrs. Brady in the "Brady Bunch" movies and for her other starring roles in "Troop Beverly Hills," "The Money Pitt" with Tom Hanks and "Hello Again."  She has also guest-starred on several popular television shows, including "M*A*S*H," "Lois & Clark: The New Adventures of Superman," "Diagnosis Murder," "Life with Louie," "Murphy Brown," "Boston Common," "Frasier," "8 Simple Rules," "Strong Medicine," "Joan of Arcadia," "Boston Legal," "Yes, Dear" and "Family Guy."  Long starred in several Hallmark Channel Original Movies including, "Falling in Love With the Girl Next Door" with Patty Duke, Patrick Duffy and Bruce Boxleitner, "Ice Dreams" with Jerry Stiller and "Holiday Engagement."
Most recently, Long has been seen on ABC's hit comedy "Modern Family" as DeDe Pritchett, mom to Mitchell and Claire.
CINDY WILLIAMS (Ruth Yates) – Cindy Williams has enjoyed the privilege of working with extraordinary directors, including Francis Ford Coppola, George Lucas and George Cukor.  Though Williams has achieved much success in her film career, she is most recognized for her role as Shirley Feeney in the ABC situation comedy "Laverne & Shirley."
A woman of many talents, Williams' stage credits include the national tour of Grease playing Miss Lynch, the national tour of Deathtrap with Elliot Gould, Moon Over Buffalo portraying the role of Charlotte Hay and Steel Magnolias as Ouiser Boudreaux. In 2007, she made her Broadway debut in the role of Mrs. Tottendale in the award-winning musical The Drowsy Chaperone.
Born in Van Nuys, California, Williams' first became interested in acting during high school.  After graduation, she attended L.A. City College where she majored in theater arts.  After leaving college, she landed her first television roles on "Room 222," "Nanny and The Professor," and "Love American Style."  Recent guest-starring roles include "Law And Order: SVU," "Girlfriends," "Seventh Heaven," "8 Simple Rules" and "Less Than Perfect."  She recently completed filming the independent film "Stealing Roses."
Williams' first film role was for Roger Corman in "GAS-S-S-S," starring Talia Shire, Ben Vereen and Bud Cort.  She then appeared with Maggie Smith in "Travels with my Aunt," directed by George Cukor.  Next she co-starred with Ron Howard, Richard Dreyfuss and Harrison Ford in "American Graffiti" directed by George Lucas, a low-budget film that went on to become a box office smash and film classic, and which garnered her a British Films nomination for best supporting actress.  Following "American Graffiti," Williams played a pivotal role in Francis Ford Coppola's "The Conversation," starring Gene Hackman.  While raising her family, she co-produced "Father of the Bride" starring Steve Martin, as well as its sequel.
Williams is a child advocate who supports numerous organizations including Children of the Night, Feed the Children and the International Red Cross.  She is a strong animal rights supporter and, at one time, was the National Chairperson for the Fund for Animals.
BARRY VAN DYKE (Jim Landon) – Best known for playing Detective Steve Sloane for eight seasons on the popular mystery series "Diagnosis Murder," Barry Van Dyke is the second oldest of Dick Van Dyke's four children.
He was born in Atlanta, where his father was appearing on local television, and spent much of his early childhood in New York City.  After moving with his family to Los Angeles, he made his television debut on the classic television series "The Dick Van Dyke Show," playing a nine year-old violinist.
Van Dyke has starred on television in the action series "Airwolf II" and as Sergeant Dwight Stryker on "The Redd Foxx Show."  He also starred in the series "Gun Shy,"  "Galactica 1980" and "Tabitha," the follow-up to "Bewitched."  In his first series pairing with his father, he played the owner of a small regional theater in the comedy "The Van Dyke Show."
He reprised his role as Detective Sloane in two "Diagnosis Murder" television movies, "A Town without Pity" and "Without Warning."  His credits also include the feature film "Foxfire Light" and the television movies "The Canterville Ghost," "Casino," "Conquest of the Earth," "It Happened at Lakewood Manor" and "Stalk the Wild Child."  He has been seen frequently in guest starring roles on television series and in the Hallmark Channel Original Mystery Movie franchise "Murder 101."  Most recently, he could be seen in the film "Light Years Away."
The actor is an avid motorcyclist, dirt biker and surfer. He has participated in protest rides to preserve the rights of motorcyclists to fair use of public lands. He also loves to surf and once rescued a drowning person from the ocean off Baja.
He met his wife Mary when he was a 16-year old movie theater ticket taker and married her seven years later.  They have four children: Carey, Shane, Wes and Taryn and five grandchildren.