Friend Request
CAST:
Erin Krakow
Ryan McPartlin
Ian Andrew
Patricia Richardson
Taking a stroll after escaping yet another bad date, Sam (Erin Krakow) wanders into a gallery where from across the room she experiences an instantaneous connection with photographer Heath Madsen (Ryan Mc Partlin), whose work is on display. Feeling bold, Sam returns home and contacts Heath through his website. She's delighted when he responds, proving that the connection wasn't just one-sided. Or so she thinks. After some online correspondence Sam takes up Heath's offer to visit him. Only she arrives to discover she's been communicating with Heath's precocious son Donny (Ian Andrew) the entire time! Sam isn't the only one in for the surprise…Heath has no recollection of her and didn't know she was coming. Sam can't wait to get out of town and put this whole awkward mess behind her. But all routes leading to the train station are washed out forcing Sam to stay put. Heath kindly opens his home to Sam in the meantime. With the help of housekeeper May (Patricia Richardson), Donny's matchmaking efforts just might pan out after all.
CAST BIOS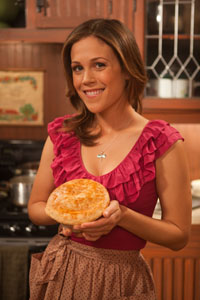 ERIN KRAKOW (Sam) – Erin Krakow was born in Philadelphia and raised in Wellington, Florida. Her love of acting began at a very young age and she was honored to attend The Juilliard School for her collegiate education. In her professional life, Erin has performed in various theaters in New York City as well as across the nation! For several years, Erin played the role of Specialist Tanya Gabriel on the much loved Lifetime drama "Army Wives" and she was recently featured in an episode of ABC's "Castle." She is thrilled to be starring as Elizabeth Thatcher in Hallmark's newest scripted drama – the upcoming "When Calls the Heart," set to premiere in 2014. Erin had such a wonderful time filming "Friend Request."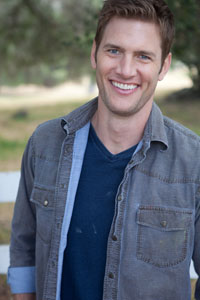 RYAN McPARTLIN (Heath) – Born and raised in Chicago, Illinois, actor Ryan McPartlin has gone from achieving success on the football field at the University of Illinois to achieving success on screen with his Midwestern charm.
En route to primetime success, McPartlin caught the eye of renowned photographer Bruce Weber, thereby garnering a prime campaign for Abercrombie & Fitch. It wasn't long before he parlayed a coveted role on daytime's "Passions" into a lead role as Fran Drescher's younger live-in love on the comedy "Living with Fran." No stranger to romancing an older leading lady, McPartlin starred opposite Gina Gershon in the acclaimed Lifetime mini-series "Everything She Ever Wanted." Amidst his series regular role on Josh Schwartz's hit NBC action dramedy "Chuck" as Devon 'Captain Awesome' Woodcomb, he's managed to guest star on such series as "Mad Men," "Swingtown," and "CSI: NY," among others. Additionally, he's voiced the title role of Universal's animated feature "The Adventures of Clutch Powers." In 2011, McPartlin was in the feature "J. Edgar," directed by Clint Eastwood. This year, he stars in "The Right Kind of Wrong," opposite Ryan Kwanten. Additionally, he plays the series regular role of Tyler in TBS' pilot "Do it Yourself."
A board certified personal trainer and sports enthusiast, McPartlin currently resides in Los Angeles with his wife and children.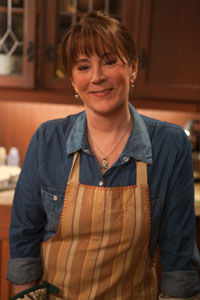 PATRICIA RICHARDSON (May) – Patricia Richardson is best known for her portrayal of Jill Taylor on the long running series "Home Improvement" in which she co-starred with Tim Allen. For her work on the series she received nominations for four Emmys and two Golden Globes as "Outstanding Lead Actress in a Comedy Series". While performing in Home Improvement she also co-hosted the Emmy Awards with Ellen DeGeneres. In 2009 the members of the cast of Home Improvement received a Fan Favorite Award from the TV Land Awards. She has also received a Vision Award and a Women In Film Award in Texas.
Patricia starred as Dr. Andy Campbell in Lifetime Television's "Strong Medicine" for three seasons and received two Commendations from the Prism Awards for her work in the show. In the "West Wing," she had a recurring role for two years as Sheila Brooks, Alan Alda's Chief of Staff. For her first leading role in a film, "Ulee's Gold", directed by Victor Nunez and co-starring Peter Fonda, she was nominated for an Independent Spirit Award.
Previously, Richardson garnered rave reviews for her portrayal of Marilyn Monroe's mother in the CBS miniseries "Blonde." She was also seen playing twins in the Franchise Pictures production "Viva Las Nowhere," co-starring Danny Stern and James Caan, which was released on video under the title "Dead Simple" and won a Seattle Film Festival Award. She received more great reviews for Lifetime's "Sophie and the Moonhanger," co-starring Lynn Whitfield and Jason Bernard, which garnered Cable Ace Nominations, and "Undue Influence," with Brian Dennehy. Other films include "Lost Angels," "In Country and Beautiful Wave." She was brought out to Los Angeles from New York after several years of doing theatre by first Norman Lear and then Alan Burns to do three different series prior to "Home Improvement": "Double Trouble" for Norman Lear, "Eisenhower and Lutz," and "FM" for Alan Burns.
Patricia took some time off from her career to get her kids through school and returned to work a few years ago when the youngest went off to college. Patricia has happily returned east to do theatre. She did "The Graduate" first for the Cape Theatre, then the World Premiere of Alfred Uhry's "Apples and Oranges" directed by Lynne Meadow for MTC and the Alliance Theatre last fall, and now will go back to Off-Broadway this summer to star in "I Forgive You Ronald Reagan" at the Samuel Beckett Theatre. She has starred in three Hallmark Movies in the last year. She just completed "Friend Request."
Richardson was born in Bethesda, Maryland and was one of the four daughters of a Naval aviator, who became an aeronautical engineer and corporate executive. They moved frequently around the country while she was growing up. She went to college at Southern Methodist University where she received a BFA in Acting and met several people she ended up working with later in New York such as the playwrights Jack Hefner ("Vanities") and Beth Henley ("Crimes of the Heart"). Ms. Richardson originated parts in New York in Beth's "The Wake of Jamie Foster" and "The Miss Firecracker Contest," as well as "Loose Ends" by Michael Weller, "Fables for Friends" by Mark O'Donnell, and "Cruise Control" by Kevin Wade. She received her Equity card from Arthur Laurents when she first arrived in New York and auditioned for "Gypsy" with Angela Lansbury. She understudied "Gypsy" for a year, but never got to go on for the part.
Patricia is the proud mother of three now grown people: Henry, Joe, and Roxie Baker. Joe is in his final year in the Gallatin Program at NYU, his twin sister Roxie will be finishing up at Boston University in the next year as well. Henry is a graduate of the University of Texas and is currently a producer of Trending Now at Yahoo. Pat is the National Spokesperson for CUREPSP and serves on their Board of Directors. PSP is the rare brain disease that killed her father and she has been working to raise money and awareness for all brain disease, particularly the "tau" related ones such as PSP, Alzheimer's, and TBI.