Hearts On Fire
CAST:
Alison Sweeney Greg Vaughan Edward Asner
Jenny (Alison Sweeney) excels at her job as a 911 dispatch operator, always checking up on important calls and maintaining a good rapport with the police officers and firefighters she communicates with regularly. After being notified that her hours are going to be cut Jenny decides to rent out the spare room in her house to make up for the lost income – a necessity since she is a single mother with two children, Luke and Elise, to care for. One day a call comes in from a firefighter she's never met face to face and knows only as 'Cowboy' (Greg Vaughan). He's hurt and needs medical attention. Wanting to check on Cowboy, Jenny visits the hospital and learns that his real name is Jeff. There is an instant attraction and Jenny awkwardly rushes out of the room, but not before leaving her number on the back of a 'For Rent' flyer. With a broken leg and complications from smoke inhalation the doctors tell Jeff he will need to find a place to live that doesn't require climbing three flights of stairs as his current residence does. Remembering the For Rent flyer, Jeff contacts Jenny. Soon after, Jeff moves in and begins to form a strong bond with Luke and Elise, becoming the father figure they never had. With the help and scheming of the children a relationship blossoms between their mother and Jeff. Helping each other get beyond the demons of their past Jenny and Jeff open up to one another and a true love story begins.
CAST BIOS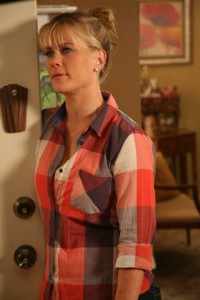 ALISON SWEENEY (Jenny) –
Alison Sweeney is busy juggling the roles of host for NBC's hit reality series "The Biggest Loser," host and executive producer of "Hollywood Girls Night," and the award-winning Sami Brady on NBC's hit daytime drama "Days of our Lives" with her roles as producer, director, author, wife and mother. Sweeney, who is just completed her tenth consecutive season as host of NBC's "The Biggest Loser," leads the hit reality series in transforming the lives of show contestants and television viewers worldwide.  Sweeney was so inspired by the contestants running a marathon each season, that she recently completed the 2012 Los Angeles Marathon and is currently training for the 2012 Nautica Malibu Triathlon.  Sweeney is also an accomplished author with her most recent book,
The Mommy Diet
, released in 2011 and the paperback edition released in December 2012.  The book reveals the "diet" of nutrition, fitness and self-care that women can follow to look and feel fantastic – before and during pregnancy, and after giving birth.
The Mommy Diet
focuses on ways to get and keep physically and mentally healthy, while offering ways to slim down after having a child in a positive, attainable way.  Dr. Oz, Holly Robinson Pete and Jillian Michaels are amongst those who provided endorsements for her book. No stranger to the camera, Sweeney began her acting career at age 4.  At 16-years-old, Sweeney joined the cast of "Days of our Lives" and in her almost 20 consecutive years as Sami Brady, her character has tackled controversial storylines including bulimia, date rape, teen pregnancy, and capital punishment.  Sweeney's performance has garnered numerous awards including The Soap Opera Digest Awards four times (1986, '98, '99 and 2001) for the role of Favorite Villain and the award for Favorite Good Girl in 2001.  Sweeney also won the award for America's Favorite Villain at the 29
th
Annual Daytime Emmy Awards.  During the past few years at "Days of our Lives," Sweeney has also added director to her long list of credits. She continues her philanthropic work as an Ambassador for Stand Up To Cancer, a member of the Entertainment Council for Feeding America and a co-host for the annual MDA Telethon.She currently resides in Los Angeles with her husband Dave, a California Highway Patrol officer, and their 7-year-old son Ben and 3-year-old daughter Megan. Visit www.alisonsweeney.com for more information on Sweeney's tips for health, wellness, fashion and personal anecdotes and follow her on twitter at @Ali_Sweeney.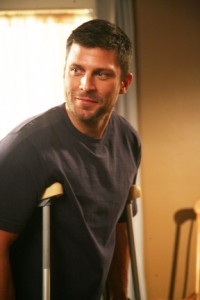 GREG VAUGHAN (Jeff) –
James Gregory Vaughan, Jr., was born in Dallas, Texas, on June 15, 1973, and was raised in both the big city of Dallas and the small German town of Fredericksburg, Texas. Before graduating high school, Greg was discovered in a community back-to-school fashion show, and was immediately signed by a local modeling agent. With the opportunity to travel the world, he ventured to Milan, Italy, just months after high school graduation. Upon his arrival, he landed prestigious campaigns for the legendary designers Giorgio Armani and Gianni Versace, as well as Banana Republic, Tommy Hilfiger, and Ralph Lauren. The nomadic lifestyle came to an end through his mother's influence. She encouraged him to follow his true passion: acting. Vaughan's acting career began with abundant commercial work, preparing him for opportunities ahead. In 1996, Vaughan made his television series debut as Josh Walker in the popular Aaron Spelling series "Malibu Shores." This soon spun off into "Beverly Hills 90210," where Vaughan played Cliff Yeager (1996-1997). Trying his hand at a few small independent films, he was cast in the popular cult films "Poison Ivy" and "The New Seduction" (1997). Vaughan spent his time between projects in a number of guest-starring television appearances in such series as "Buffy the Vampire Slayer," "Any Day Now," "Sabrina the Teenage Witch" and "Nash Bridges" before shooting the controversial 'dramedy' pilot, "Student Affairs" for Imagine Television. Spelling Entertainment soon created a role for Vaughan as series regular, Dan Gordon, on "Charmed" (1999-2000). After the series ended, Vaughan quickly landed the role of Milo Mosley in "Glory Days," the highly anticipated Kevin Williamson series. After its short television run, Vaughan began his foray into daytime drama as Diego on CBS's #1 "The Young & the Restless." With rave reviews and notoriety, a Daytime Best Newcomer nomination followed, along with
People Magazine
naming Greg Vaughan as 'One of the Sexiest Men Alive' in 2002. Finding little spare time, he still managed to appear in guest roles on both "Will & Grace" and "Still Standing." This all led to Vaughan's opportunity to grab the highly acclaimed role of Lucky Spencer on "General Hospital" (2003 – 2009). Since his departure Greg completed a recurring guest star role on the hit CW series "90210." This was followed up with indie-film "Borderline Murder" along with spots on "The Closer," the ABC-Family Pilot "Jane by Design," the ABC series "Good Christian Belles,"
and lead roles in television movies, "Love's Christmas Journey" and "Hearts on Fire." While maintaining his busy acting career, Greg and his wife, Touriya, have two children and together launched the Fashion PR company (THV PR) in 2010.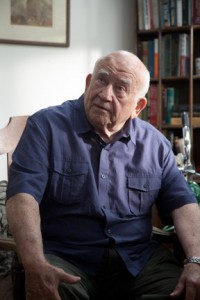 EDWARD ASNER (Buddy) –
Versatile, committed, eloquent and talented are all adjectives that describe actor/activist 7-Time Emmy Award, Edward Asner. Asner starred as Carl Fredricksen in Pixar's 2009 box-office-hit "UP!," which
won Best Animated Feature Film and Best Original Score -Motion Picture at the 67th Annual Golden Globe Awards as well as receiving The Outstanding Animated Film Award at the 82
nd
Oscars. Asner is currently touring the country as Franklin Delano Roosevelt in the critically acclaimed one man show
"
FDR"
which he has been doing for over three years, and will return to Broadway this Fall in the comedy drama "Grace,"
opposite Paul Rudd and Michael Shannon. Asner most recently completed multiple guest star appearances on the CBS primetime series "Hawaii Five-O" starring Alex O'Loughlin and Scott Caan where he reprised his role from 25 years ago, a guest spot on TV Land's "Hot In Cleveland" with Betty White, completed a guest starring role on the ABC series "The Middle" starring Patricia Heaton and went on to guest star as Henry Winkler's father on USA Network's "Royal Pains." Ed also stars opposite Carol Kane in the upcoming indie feature film "
Should've Been Romeo,"
a slice of life drama also starring Paul Ben Victor that just premiered at The Newport Film Festival and is touring the festivals across the country. Ed also stars in the short film "
Good Men"
opposite Mark Rydell (On Golden Pond), directed by Brian Connors and is touring festivals across the country. Asner portrayed Warren Buffet in the critically acclaimed HBO telefilm drama "
Too Big to Fail"
starring William Hurt, Paul Giamatti, James Woods, Topher Grace and Tony Shalhoub and directed by Curtis Hanson. Asner starred in the CMT primetime sitcom series "
Working Class"
as Hank Krasny, the local butcher, also starring Melissa Peterman and Patrick Fabian. Asner also stars in the upcoming indie feature "
Let Go
,"
a comedy drama in which he portrays an ex-con on parole opposite David Denman, Jack Carter, Garrett Morris, directed by Brian Jet who wrote the film, and "
Elephant Sighs"
directed by Ed Simpson. He was a;so featured in the comedy "
Not Another B Movie"
 directed by John Wesley Norton. Asner is best known for his comedic and dramatic crossover as the gruff but soft-hearted journalist Lou Grant, the role he originated on the landmark TV news room comedy "The Mary Tyler Moore Show" and continued in the newspaper-set drama "Lou Grant," which earned him five Emmys and three Golden Globe Awards.  Asner received two more Emmy and Golden Globe Awards for the mini-series "Rich Man, Poor Man" and "Roots." His prolific and much honored acting career demonstrates a consummate ability to transcend the line between comedy and drama. One of the most honored actors in the history of television; Edward Asner has been the recipient of seven Emmy Awards and 16 nominations, as well as five Golden Globe Awards and served as National President of the Screen Actors Guild for two terms. He was inducted into the TV Academy Hall of Fame in 1996.  Asner received the Ralph Morgan Award from the Screen Actors Guild in 2000, presented periodically for distinguished service to the Guild's Hollywood membership.  In March 2002, he was again honored by The Guild as the 38th recipient of the prestigious Life Achievement Award for career achievement and humanitarian accomplishment, presented annually to an actor who fosters the highest ideals of the profession. In 2012, Asner was the recipient of the Lifetime Achievement Award from The Garden State Film Festival, and also honored and received the 2nd Annual Betty White Award for Actors and Others for Animals. In addition to his professional versatility, Edward Asner has consistently served and committed himself to the rights of the working performer in addition to advocating for human rights, world peace, environmental preservation and political freedom.  A passionate and informed spokesperson for the causes he supports, Asner is a frequent speaker on labor issues and a particular ally for the acting industry's older artists.  Some of the many honors he has received throughout his career include the Anne Frank Human Rights Award, The Eugene Debs Award, Organized Labor Publications Humanitarian Award, ACLU's Worker's Right's Committee Award and the National Emergency Civil Liberties Award. Edward Asner has more than 100 TV credits, which include starring in the series "Off the Rack," "The Bronx Zoo" and "Thunder Alley."  Numerous guest appearances include roles in "Curb Your Enthusiasm," "ER," "Arliss," "The Practice" and a recurring role on "Studio 60 On The Sunset Strip."  Besides commercials and numerous books on tape, he has lent his voice to popular cartoon shows such as "The Simpsons," "Spiderman" and "Boondocks."  Asner's dozens of motion pictures include "They Call Me Mister Tibbs!," "Fort Apache the Bronx," "JFK,"
and the European production of "Giovanni XXIII"
–
the highest rated television mini-series in the history of Italian TV as well as the box office hit, "Elf"
with Will Farrell and James Caan.  Asner has done several Hallmark movies and was nominated for another Emmy for "The Christmas Card"
in addition to his Emmy nominated guest appearance on "CSI/NY."