Late Bloomer
CAST:
Italia Ricci
Nathan Parsons
Madison Pettis
Botanist, Jenny Taft (Italia Ricci), has traveled all over the world with her boyfriend, Owen (Derek Krantz), in search of the rare heart orchid. There's a myth that states that the rare flower will only bloom when a couple finds true love, but Jenny doesn't buy into it. When Jenny heads out to California to assist her mother Eileen (Beth Broderick) with the sale of her childhood home, Jenny is flooded with memories of the cruel treatment she received as a teenager. As luck would have it, Jenny bumps into her high-school crush Shane (Nathan Parsons), now a teacher at their alma mater. In hopes of making amends for the mean prom night prank he played on her so many years ago, he now asks Jenny to accompany him to the prom he's chaperoning. Jenny finds herself torn between her relationship with Owen and re-kindled feelings for Shane. Will a kiss from one or the other get the heart orchid to finally bloom?
CAST BIOS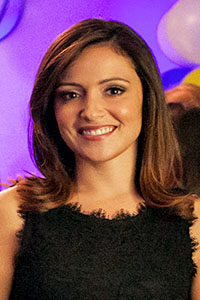 ITALIA RICCI (Jenny) – Actress Italia Ricci can next be seen starring ABC's new political, drama "Designated Survivor" written by David Guggenheim and executive produced by Simon Kinberg. The series also stars Kiefer Sutherland, Kal Penn, Maggie Q and Natascha McElhone. Most recently, Ricci recurred on the CBS series "Supergirl" playing villain Siobhan Smythe otherwise known as 'Silver Banshee.'
Ricci previously led the cast in ABC Family's drama series "Chasing Life," playing the lead role of April, a twenty-something smart and quick witted aspiring journalist who is trying to work her way up the ladder at a Boston newspaper by trying to impress her hard-nosed editor.
Born in Richmond Hill, Ontario and raised in Newmarket, Ricci always had a burning desire to be in the entertainment business. Beginning her career at nine years old, Italia starred in numerous local theatre productions and continued to do so throughout high school. While majoring in drama in college, Ricci participated again in school productions and did a little modeling during summers. As much as she enjoyed performing, Ricci always planned on her entertainment career consisting of entertainment law. However, one day in college Ricci's friend asked her to be an extra with him on the movie "American Pie Presents: Naked Mile." During a lunch break, one of the writers approached her and asked her if she would like to audition to be upgraded from extra to a featured player and before she knew it, she was kneeing one of the principle actors in the groin. It was during the filming of "Naked Mile" that Ricci was noticed which led her to be cast in the next "American Pie" movie, entitled "American Pie Presents: Beta House".
After graduating from Queen's University in Kingston, Ontario, Ricci deferred her plans for law school to relocate to tinsel town to give acting a serious shot; giving herself a two year limit to see if she could make a living doing what she loves. She immediately landed a recurring role as Chase Ravenwood on Disney XD's original series "Aaron Stone." Ricci went on to book guest-starring roles on such television shows as "CSI: Las Vegas," "House," "Greek," and "How I Met Your Mother." She followed these with a recurring role on the Comedy Central series "Secret Girlfriend" and the lead role of Maggie on the hit Cartoon Network live-action series "Unnatural History."
Ricci has also found success on the big screen. She can be seen as Samantha, the object of affection for world traveling know it all Dean Slater (played by Mitchell Jarvis), in the new independent college comedy "Resident Advisor" written by the Sander Brothers. In 2014 she played an early love interest for title character Jon (Joseph Gordon-Levitt) in the fall comedy feature "Don Jon," and was seen in the lead role of Allison in the 2014 Sony thriller "The Remaining."
When Ricci isn't acting, she enjoys cooking, reading, painting, and spending time with her dogs Daisy and Boo. She is also involved with the non-profits: Stand Up To Cancer as an Ambassador and she volunteers to the organizations, American Cancer Society (ACS), Children's Hospital L.A. (CHLA), and Stupid Cancer.
Italia currently resides in Los Angeles.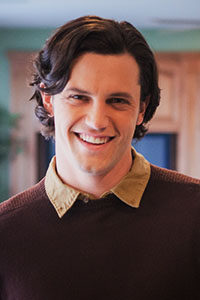 NATHAN PARSONS (Shane) – Nathan was a series regular for the final season of "True Blood" and was the series lead in Randall Wallace and Carlton Cuse's pilot "Point of Honor" for Amazon.
Nathan currently recurs on the CW hit "The Originals" and was a recurring guest star on ABC Family's "Bunheads," opposite Sutton Foster.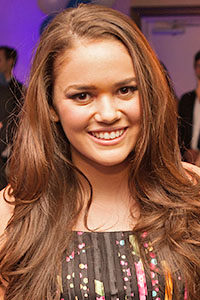 MADISON PETTIS (Frankie) – Audiences still fondly remember Madison Pettis as the curly haired, pint-sized, ballerina daughter of Dwayne "The Rock" Johnson in her first film, Disney's box office smash, "The Game Plan." Now ten years later, at 18 years old, Madison has grown up in front of America's eyes, while building an extensive list of credits and a fan base on social media of over 10 Million followers.
Currently she plays the recurring role of Daria, as part of a love triangle on ABC Family/FreeForm's hit series, "The Fosters," and reprises her character in the Season 4 premiere on June 20th. Slated for a 2017 release, Madison stars alongside Italia Ricci in the movie "Late Bloomer," as a student struggling with a high school mean girl as prom approaches. Madison continues to voice the feline role of Zuri in Disney's successful animated series, "The Lion Guard," with Season 2 premiering later this year.
Madison recently served as the NFL's celebrity brand ambassador of their Junior apparel line for the 2015-2016 Season. To celebrate the Super Bowl's 50th Anniversary, she collaborated with the NFL to personally design a t-shirt for their junior collection, which sold out online in just 5 days. She is also the current brand ambassador for eOne's licensed brand of apparel & accessories line, So So Happy. Previously she was a brand ambassador for Pastry Shoes.
Her recent projects include starring in last year's film, "Do You Believe," where she took on the challenging role of a pregnant homeless teen runaway. The film also stars Cybill Shepherd, Mira Sorvino, and Sean Astin. Madison also landed a guest appearance in the series finale of NBC'S "Parenthood" as Max's budding love interest.
After moving from Texas, Madison got her first break in LA at age 7 and within a few weeks of arriving for her first pilot season, booked a guest role on the pilot of "Jericho," starring Skeet Ulrich and directed by Jon Turteltaub. That same pilot season, on her very first film audition, she booked a starring role in Disney's football-themed "The Game Plan." "The Game Plan" scored the #1 spot for two weeks in a row, earning $144 million worldwide. Shortly after, Madison became the youngest Disney Channel star, playing Sophie (the President's daughter) on "Cory in the House" for two seasons. In a crossover episode, Madison guest starred on the hit show, "Hannah Montana" and those producers subsequently offered Madison a starring role in her second TV series—"Life With Boys," which ran for two seasons on Teen Nickelodeon and in 86 countries worldwide.
Madison has worked with some of the biggest names in the business, including Will Smith in "Seven Pounds." She also starred as Jane Krakowski's daughter alongside Nathan Lane and Uma Thurman in "Muppets Christmas: Letters to Santa," and Penelope Ann Miller in the indie "Free Style." Madison also starred in "Mostly Ghostly 1 & 2," and guest starred on The Hub's "Haunting Hour"–all based on the popular Goosebumps book series by author R.L. Stine. She starred in other projects for Disney, including "The Search for Santa Paws" and a recurring character in 10 episodes of the hit Disney XD series, "Lab Rats."
Madison's resumé also includes substantial animation voiceover work. For nearly 100 episodes she voiced the lead role of Izzy in Disney Jr's series, "Jake and the Never Land Pirates." Other credits include the voice of George Lopez's puppy daughter in "Beverly Hills Chihuahua 2 & 3" and a recurring role on Disney Channel's "Phineas & Ferb."
Madison has the distinct honor of being the youngest entertainer ever to tour for the USO and traveled to Germany and Hawaii to visit with thousands of children of service men and women at schools on military bases. She has a big brother serving on active duty in the Army, so supporting America's troops and their families is a cause close to her heart. She's also helped raise funds for Trees for Troops, which provides free Christmas trees to military families.
Madison just graduated with honors from Notre Dame High School and was accepted to NYU's prestigious Tisch School of the Arts. She has decided to defer her enrollment to focus on her career in Los Angeles.