Matchmaker Santa
CAST:
Lacey Chabert
Adam Mayfield
Donovan Scott
Florence Henderson
John Ratzenberger
As a little girl, Melanie Hogan (Lacey Chabert) wished to find her own prince charming just like her parents found true love. Now an adult, Melanie is running her own bakery and dating a handsome CEO, Justin (Thad Luckinbill). Although things seem perfect when Justin asks Melanie to spend the holidays together at his beautiful lake house upstate—and meet his mother. Melanie finds herself spending more time with Justin's best friend and loyal assistant, Dean (Adam Mayfield), who just might be harboring a secret crush on her. Justin secretly plans to throw a corporate Christmas party at the lake house to impress the team, using Melanie to make him look good. He flies up early to set up and relies on trusty Dean to pick Melanie up from the airport. Soon the magic of a man named Chris (Donovan Scott)—a happy guy with a resemblance to Santa determined to fulfill Melanie's childhood Christmas wish—puts the duo under his holiday spell. Melanie and Dean find themselves stranded in beautiful Buford Falls for Christmas with Chris—and without Justin, who has begun to occupy his time at the lake house with an old flame.
CAST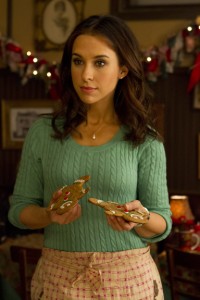 LACEY CHABERT (Melanie) – Lacey Chabert is best known for her role as Claudia on the Golden Globe® Award-winning FOX television series "Party of Five." Chabert was seen in Warner Brother's "Ghosts of Girlfriends Past" opposite Jennifer Garner and Matthew McConaughey. She received outstanding reviews and an MTV Movie Award for her role in the box office hit "Mean Girls" from director Mark Waters. She also starred as Anjelica Huston's daughter in "Daddy Day Care" and as Brooke Ellison in Christopher Reeve's final directorial project, "The Brooke Ellison Story" for A&E.
She most recently starred opposite Gena Rowlands in "What If God Were The Sun" for Lifetime. Originally from Purvis, Mississippi, Chabert got her big break on the Broadway stage playing young Cosette in Les Misérables. In 1998, she made her feature film debut as Penny Robinson in "Lost in Space." On television, Chabert has appeared in "All My Children" as well as several made-for-TV movies, including "Gypsy" starring Bette Midler, "A Little Piece of Heaven" with Cloris Leachman and the Hallmark Channel Original Movie "Elevator Girl." She has also voiced numerous animated films and TV shows, including "The Wild Thornberrys."
ADAM MAYFIELD (Dean Ford) – Adam recently completed two independent features. "The Preacher's Daughter", starring opposite Andrea Bowen, gave him the opportunity to work near his hometown of Houston. The psychological thriller, "Would You Rather" finished shooting in LA last fall and is planning a 2012 release.
The tall Texas native with swagger and matinee good looks cut his teeth into acting in high school. After graduating DePaul University's respected Theatre School in Chicago and having numerous plays and musicals under his belt, Mayfield moved to Los Angeles. He quickly got noticed and made his TV debut in David E. Kelly's "Boston Public." After some guest star work, Los Angeles theatre and countless commercials, Mayfield was led to New York, where he landed a contract role on ABC's "All My Children."
Mayfield has since moved back to LA and when he's not on set or auditioning you can find this avid outdoorsman backpacking in the hills of Angeles National Forrest, assuming he's not camping in the Colorado Rockies.
DONOVAN SCOTT (Chris) – Donovan Scott studied at the American Conservatory Theatre in San Francisco and then went on to join the Comedia Del Arte' Troup, where he eventually became the Artistic Director. He went on to tour the East Coast for several years directing, writing, and performing with that troupe. Eventually, Donovan Scott returned to San Francisco were he did more theatre. His theatre experiences took him to Alaska, where he opened the Alaska Repertory Theater. His next move was to San Diego, where he performed leads in three plays at The Old Globe Theater. Next stop: Los Angeles to try his hand at television and feature films. Donovan Scott has made his living as an actor in Los Angeles ever since, working with Steven Spielberg in the movie "1941," co-starred in Robert Altman's "Popeye" with Robin Williams, starred in the "Savannah Smiles," "Zorro the Gay Blade," "Sheena Queen of the Jungle," "Police Academy," Scott also co-starred in "Back to the Future 3," "Psycho 3" and over 30 other feature films.
Donovan Scott was under contract with NBC for 5 years, starred and co-starred in a variety of television series, mostly sitcoms, including the two series "Slap Stick Studios" (a Saturday morning kids show) and co-starred for 13 weeks with the great Lucille Ball in "Life with Lucy." He has also starred or guest starred in over 50 Television shows. Scott's illustrious repertoire also includes directing, co-writing and starring in 3 films and 2 mini-series in Russia, where he lived for five years. Scott was nominated for a Silver Bear Award in Germany for one of his television series. Since moving back to Los Angeles, he continues his work in television and films. His Santa characters can be seen in an abundance of television shows and movies for television and national commercials.
Scott also teaches improvisation and comedy for Carolyne Barry, where in 2010 and 2011, he was voted one of the top three improvisation teachers in the Los Angeles area. Scott is about to start his second season at the ACME theatre, with his popular web comedy variety show series "Scotty and Friends," which he writes, directs, hosts, and performs in.
FLORENCE HENDERSON (Peggy) – There is a good explanation why Florence Henderson has endured as one of the most beloved American entertainers of the last six decades. Long before she became a television icon as Carol Brady of "The Brady Bunch," Florence's talent, love of performing and love of people were matched with an ethic of hard work and a curiosity to explore new dimensions. These qualities opened doors of opportunity and success soon followed in almost every genre of the performing arts.
That talent, drive and determination have been a constant since she literally sang for her supper at age six in the height of the Depression in Indiana. It followed her when she arrived with suitcase in hand to try out for the prestigious American Academy of Dramatic Arts in New York at age 17, and in more recent times, performing on "Dancing with the Stars" at age 76 in 2010.
Henderson passed her audition at the American Academy, but lasted there only for a year before a Broadway job beckoned. Henderson had mixed feelings about leaving school, but an administrator set her straight, "What, are you crazy?!! That's why you're here!" From a role in the chorus ofJosh Logan's Wish You Were Here, Henderson was discovered and became a protégé of the legendary Rodgers and Hammerstein and embarked on the national tour of Oklahoma! in the lead role of Laurey. From there, her name was soon above the Broadway marquis in Fanny. Leading roles would follow in major productions of The Sound of Music, The Girl Who Came to Supper (Noel Coward's last play), South Pacific, and The King and I, among others.
But the emerging medium of television piqued her interest, and Henderson accepted the job as the "Today Show" Girl, sitting alongside pioneering broadcaster Dave Garroway as a female anchor (and would be succeeded by Barbara Walters when she left). Henderson was also a mainstay on live performance shows like "Ed Sullivan," the "Bell Television Hour" and others. Later, her ability to match wits as well as sing made her a favorite of Dean Martin and Johnny Carson (becoming the first woman to guest host his show). Her competitive nature also came out in her love of game shows, and regular appearances on shows like "Hollywood Squares" and "Password" also reinforced her appeal as a personality.
But that was all a warm up for mega-popular "The Brady Bunch," the television series that has remarkably not left the airwaves in syndication since it ceased production in 1974 after 117 episodes. Aired in over 122 countries, "The Brady Bunch" was an opportunity that Florence Henderson initially viewed as lukewarm at best. Her work between her nightclub act, stage productions and television appearances was satisfying and allowed her to balance her family life as mother of four school-aged children. The Hollywood-based production would also mean having to uproot her family from their home base in New York City.
But the series about the blended family with its trademark tick tack toe opening credits hit an immediate chord with the American public. Carol Brady became one of the most popular mothers in television history, an irony given that Henderson's childhood was anything but idyllic.
Born the last of ten children to a tobacco sharecropper and his wife, Henderson faced the hard consequences of poverty and deprivation at an early age. Her mother loved music and taught her how to sing fifty songs by age two. Exhausted by the difficulties of her life, her mother moved away when Henderson was twelve, leaving her with her next oldest sister and her father, who struggled with alcoholism. She had to grow up fast but singing was her saving grace.
One of her best friends came from a well to do family and recognized her talent, arranging for a scholarship for theatrical studies in New York. Although loving, compassionate and forgiving about her parents and the difficulties they faced, Henderson created the mother in Carol Brady
that she never had.
In the aftermath of "The Brady Bunch," Florence Henderson continued to star in major theatrical productions, headline in Las Vegas and perform live at major venues around the country.
Today, she stars in her autobiographical one woman show All the Lives of Me, which takes her audience from her hardscrabble childhood in Indiana through each chapter of her career and personal life to the present.
Although she had represented General Motors as a spokesperson early in her career, Henderson also became in high demand for commercials both during and after "The Brady Bunch." For many years, she was affiliated with Wesson Oil and Tang, among others. The Wall Street Journal recently ranked her #5 in consumer appeal among celebrity product endorsers. Today, she is the national spokesperson for Bausch & Lomb's Crystalens, the corneal lens implant she wears herself after cataract surgery.
Today, Henderson maintains a non-stop work schedule and is excited at the opportunities that she is blessed to have continue come her way. In her spare time, her priority is family, notably her four children and five grandchildren. She also does motivational speaking and continues to pursue her passion for hypnotherapy, which she learned under her late husband, the renowned and pioneering hypnotherapist John Kappas.
Henderson wrote her autobiography, Life Is Not A Stage, From Broadway Baby to a Lovely Lady and Beyond, which is published by Center Street/Hachette Book Group and is now available.
Henderson was inducted into the Smithsonian Institute's first permanent Entertainment History Exhibit as one of the greatest pop cultural icons of all time in November 2008. She was also awarded a star on the Hollywood Walk of Fame in 2003. Her enthusiasm, professionalism, commitment to quality and artistry has made Florence Henderson one of the most respected and endearing performers of our time.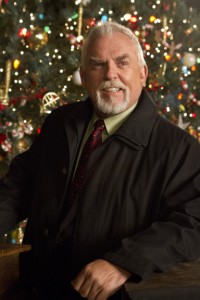 JOHN RATZENBERGER (George) – Born in Bridgeport, CT, master improvisational actor John Ratzenberger gained international fame as Cliff Clavin in the NBC series "Cheers." During more than three decades of movie making and theater, Ratzenberger has enjoyed success as a screenwriter, director, producer and multi Emmy®-nominated actor. He is also an accomplished entrepreneur and philanthropist.
Ratzenberger's career began in earnest in the early 1970s, when he formed the improvisational theater duo Sal's Meat Market. In between his theater touring in Europe, Ratzenberger was a producer and screenwriter for several European TV and theater organizations.
Ratzenberger's first motion picture role was in the Golden Globe®-nominated film "The Ritz," and he went on to appear in more than 22 movies over the next few years, including "Gandhi" and Star Wars' "The Empire Strikes Back." In all, Ratzenberger has acted in close to 40 movies, including "Superman 1" and "Superman 2," "One Night Stand," "Tick Tock," "That Darn Cat," "She's Having a Baby," "Outland," "Yanks" and "A Bridge Too Far."
In 1982 Ratzenberger accepted a writing assignment for CBS in Los Angeles. On the day he was scheduled to return to London, he auditioned for a role on the upcoming "Cheers." Thus was born the lovable postman and trivia king, Cliff Clavin—American icon. He has portrayed Cliff in eight NBC TV specials (1986-2002), as well as in shows such as "Fraiser," "The Simpsons," "Blossom," "Wings," "The Tortellis" and "St. Elsewhere."
As a vocal talent, Ratzenberger is the only actor to voice a role in all of the Pixar films. Pixar artists always find a way to include Ratzenberger's recognizable eyebrows and mustache. As Pixar's creative head John Lasseter once said, "John is our good luck charm."
Ratzenberger has acted in many TV movies, including the Hallmark Channel Original Movie, "Our First Christmas," AMC's "Remember WENN," "The Pennsylvania Miners' Story," NBC's "How I Spent My Summer," "Going to the Chapel" and "Combat Academy," Largo Entertainment's "Under Pressure" and CBS's "Timestalkers."
Ratzenberger continues to direct, produce and write. He currently heads his own production company, Fiddlers Bay Productions, located in Los Angeles. He has directed more than 50 TV episodes, including several on "Cheers," "Down Home," "Madman of the People," "Pearl" and "Sister, Sister." He also directed single episodes of MTM's "Evening Shade" and Warner Brother's "Sydney."
He started the Nuts, Bolts and Thingamajigs Foundation. Ratzenberger is committed to inspiring the next generation to the pleasures of 'tinkering' – getting away from their video games and TV sets and into the backyard building things. His tag line has become "Little hands build big dreams. Give children tools and watch them build America."
Ratzenberger is an outspoken advocate for American-made products and the companies that keep Americans working, and hosted the series "Made in America" from 2004-2005. In 2007, John embarked on a yearlong commitment with the Association for American Manufacturing and U.S. Steelworkers to create a Presidential Town Hall Tour. He is currently in pre-production on a new documentary, "Industrial Tsunami," which awakens Americans to the shortage of skilled workers that threatens the existence of companies, entire industries, and our country as a whole.
During his free time, Ratzenberger is an avid sailor, fisherman, and billiard player. He enjoys international travel, fencing and collecting antiques. He plays the drums and belongs to a bagpipe band as part of the Emerald Society. Sports such as karate, yoga and skeet shooting keep him active. He has one son and one daughter and lives outside of Los Angeles, but he spends as much time as possible on his boat, cruising up and down the East coast.