Mom and Dad Undergrads
CAST:
Kristy Swanson
Scott Grimes
Allie Gonino
Paul Butcher
Megan Mills (Kristy Swanson) has led a very successful company for years, despite the great sacrifices to her family relationship. In her place, Megan's husband, Mike Mills (Scott Grimes), was left at home to raise the kids, Zoe (Alex Gonino) and Sean (Paul Butcher). Now they're headed to college at Kay State University, but Megan is far too busy to see them off. Suddenly, Megan's investing partner announces that he's sold the business from beneath her, making her a wealthy woman. Megan tells Mike, who's thrilled until she informs him that she plans on accepting a new position immediately with the new owners of the business. Disappointed in her decision to once again prioritize her work over family, Mike files for separation and enrolls at Kay State to be close to the kids and finally pursue the degree he's always wanted. This devastating news reignites Megan's long dormant maternal need to reconnect with her family before it's too late. She also enrolls at Kay State. With the whole family in school together, Megan competes for the attention of her family, while each desperately wants to focus on experiencing college life. Through it all, Megan must learn how to properly be involved in her kids' lives and once again devote herself to her husband in order to save her family.
CAST BIOS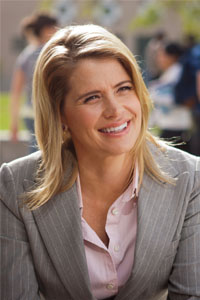 KRISTY SWANSON (Megan) – Kristy Swanson is an American actress, known for her roles in "Buffy the Vampire Slayer," "Dude, Where's My Car," and "Big Daddy."
Swanson was born in Mission Viejo, California. She debuted on the big screen in the John Hughes films "Pretty in Pink" and "Ferris Bueller's Day Off." Her breakout role was when she played the title role in "Buffy the Vampire Slayer," which would go on to become an iconic cult classic.
Swanson is currently a recurring guest star on "Psych." She stars in the upcoming television feature "The Bouquet," and also stars in "Little Women, Big Cars" for Vuguru. Her career continues to span over 30 years.
SCOTT GRIMES (Mike) – Scott Grimes is familiar to television audiences as Dr. Archie Morris, the stringent chief resident on the hit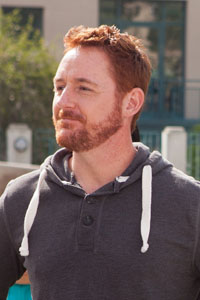 drama "ER." Once a recurring character, Grimes joined the cast in the 12th season as a series regular. He is also well known for his role as Sgt. Donald Malarkey in the critically acclaimed "Band of Brothers," the World War II miniseries. His voice is recognizable to animation fans from his series regular gig as Steve Smith on FOX's "American Dad."
Born in Lowell, Massachusetts, Grimes launched his entertainment career in 1980 as a child in the Tony Award-winning Broadway musical "Nine." He performed with Bob Hope, The Carpenters and Merv Griffin, to name a few, and his music has been heard on the Golden Globe Award-winning show "Party of Five."
Before he became an actor, Grimes considered a career as a professional hockey player, and he continues to play in celebrity charity events.
His recently completed film "Who's Your Monkey?" won the audience award at the CineVegas Film Festival. He also starred in the feature films "Crimson Tide," "Mystery," "Alaska," and 2010's "Robin Hood."
In addition, Grimes was regular on "Party of Five" for the run of the series and has had numerous television guest-starring roles
Away from the set, Grimes regularly plays charity gigs with the Band From TV, which also features Hugh Laurie, James Denton and Adrian Pasdar.