My George
CAST:
Sarah Lancaster
Brandon Quinn
Vivica A. Fox
Oscar Nunez
Aspiring writer Annie (Sarah Lancaster) gets the good news that her book My George is going to be published. Her enthusiastic publisher Della (Vivica A. Fox) informs her that reviewers are raving about the story of Annie's relationship with perfect boyfriend George. In fact, they can't wait to meet him when Annie makes her appearance at the American Bookseller's Expo. To Della's great surprise Annie confesses that George isn't a real person. The book isn't a true story about what has already happened, it's a fictional one about what Annie hopes will happen. Since Della has been selling the book as a memoir, she proposes they hire a "George" for the Expo. Annie is no fan of deceiving anybody so when she meets an actual man named George (Kip Pardue) she attempts to force destiny. Meanwhile, Annie's old friend Henry (Brandon Quinn) is watching from the sidelines suddenly wishing he had a different first name.
CAST BIOS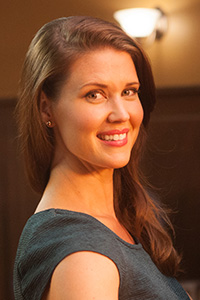 SARAH LANCASTER (Annie) – With genuine talent and a captivating presence, Sarah Lancaster has been turning heads as one of Hollywood's ascending leading ladies. In fact, Entertainment Weekly included Lancaster in its "Must List," a barometer of all that is "smart, sexy, and reeking of power." This Summer Sarah will be spending some time opposite one of Hollywood's leading men, Robert Downey Jr., as his soon to be ex-wife in the Warner Bros. and David Dobkin Directed Film, "The Judge."
As one of the stars of NBC's cult spy dramedy, "Chuck," Sarah has seen her fair share of action. For five seasons, she has brought life to Dr. Ellie Bartkowski-Woodcomb, Chuck's overly protective sister who has required a fair amount of protection herself. To Ellie, Lancaster brings a captivating combination of warmth and sensibility that has made her a favorite among fans and critics alike.
Prior to her work on "Chuck," Sarah attained the highly coveted female lead on ABC's JJ Abrams-produced series "What About Brian." For two seasons as Marjorie, she was at the center of the show's love triangle, struggling to choose between her fiance, Adam (Matt Davis) and his best friend, Brian (Barry Watson). Lancaster previously recurred on the WB's acclaimed series "Everwood" as Madison, the babysitter turned pivotal love-interest to Gregory Smith's Ephram. She also delighted audiences with an arc on NBC's long-running sitcom, "Scrubs" as Gift Shop Girl, Lisa, the object of Zach Braff's obsession.
On the big screen, Lancaster played a love interest to Leonardo DiCaprio's character in "Catch Me If You Can," as well as the indie feature film "The Good Doctor," opposite Orlando Bloom.
Lancaster was born in Overland Park, Kansas, where she grew up with her younger brother, Daniel. Her mother was a homemaker and her father was in real estate. It was her father's job that led the family to Mission Viejo, California, when Sarah was 10 years old. Soon after the move to Southern California, Lancaster began taking acting classes and landed a talent agent. Following a few months of commuting from Orange County to Los Angeles for auditions, she secured her first professional series regular role, starring as Rachel on "Saved by the Bell: The New Class."
Lancaster resides in Los Angeles with her husband, Matt, and their son, Oliver. Her interests include travel, reading, the arts, and staying fit with such activities as tennis, hiking, and Pilates. She also lends her time to various charities and organizations including: The Alzheimer's Foundation, the Orange County Performing Arts Center, Habitat for Humanity and Operation Smile.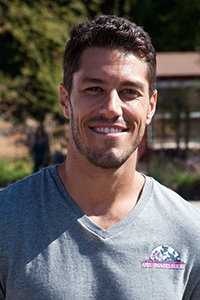 BRANDON QUINN (Henry) – Brandon Quinn will soon be seen co-starring opposite Sarah Lancaster in the PixL original movie "My George".
Quinn also recently co-starred in the Lifetime original television series "Against the Wall." The show followed Abby, a single Chicago police officer (played by Rachel Carpani), who finally scores her dream job as a detective in the department's Internal Affairs division.
Born in Aurora, Colorado, Quinn got his first big acting break as the titular character in Fox Family's popular teen series "Big Wolf on Campus." Since then, he has had recurring roles on hit television shows including "The O.C.," "Vanished", "Charmed," and most notably for his role as Tom, boyfriend of Rex Lee's Lloyd on HBO's hit television series "Entourage."
He has guest starred on many television shows including the hit CW series, "The Vampire Diaries" and FOX's long running series "Bones." His other television credits include David E. Kelley's "The Wedding Bells," "Without a Trace," "Twins," "Reba," "CSI: Crime Scene Investigation," "Melissa & Joey," and "What I Like About You."
On the feature side, Quinn co-starred as the smooth talking pilot, "Rain Man" in the 2010 feature film "Kill Speed." His other credits include the indie films "The Morgue," "Malachance,"
"The Bail," and "Express."
Brandon currently resides in Los Angeles with his wife and children.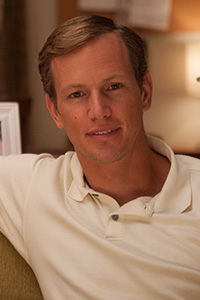 KIP PARDUE (George) – Award winning actor Kip Pardue was an honor student and star quarterback at Yale University – where he earned a degree in economics. To help pay his way through college, Kip moonlighted as a model of top brands like Armani, Polo and Abercrombie & Fitch. Pardue's big break came with Walt Disney's "Remember the Titans," where he starred as the unforgettable long-haired quarterback Sunshine, opposite Denzel Washington. Since then, Kip has starred in almost 40 films, including "But I'm a Cheerleader" with Michelle Williams, "Driven" opposite Sylvestor Stalone, Roger Avary's adaptation of Bret Easton Ellis' "Rules of Attraction," Catherine Hardwick's "Thirteen," "Loggerheads" with Bonnie Hunt, and "Undiscovered" with Ashlee Simpson, as well as hit TV series such as "ER" and "House."
Most recently, Pardue made noise playing Heinz ketchup adman Tim Jablonski on the award-winning television series "Mad Men." He was also seen on the big screen starring in "Phantom," alongside Ed Harris and David Duchovny as well as Lionsgate's "Hostel: Part III," the third installment of the wildly successful "Hostel" franchise. Pardue will next be seen in "Missionary" with Dawn Olivieri and "The Nightmare Nanny" for Lifetime. Continuing his busy schedule, he most recently finished work playing the title role in PixL and Hallmark Channel's feature "My George."
Kip is a long time resident of Venice Beach, California.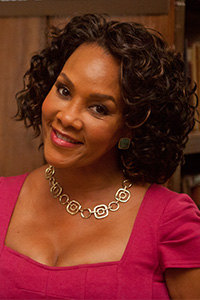 VIVICA A. FOX (Della) – Vivica keeps busy! Her most recent work includes "Mr. Box Office" and Lifetime's "Prank My Mom" host. Fox hosted "Big, Rich Texas Reunion" and the last two Jerseylicious Reunions. In film, she co-starred in "In the Hive" with renowned director, Robert "Townsend." She guest starred in Fox Network's "Raising Hope" and is also the voice of Angel Dynamite on Cartoon Network's "New Scooby Doo." Another fun guest appearance was in the critically acclaimed Cinemax's "Femme Fatale's" second season. After completing her second season on HBO's Emmy nominated hit comedy, "Curb Your Enthusiasm," Fox appeared in Lifetime's "Drop Dead Diva" and Hallmark's Christmas movies, "Farewell Mrs. Kringle" and "Annie Claus is Coming to Town."
Fox has co-starred with some of Hollywood's hottest actors, including Academy Award® winners Jamie Fox, Halle Berry and Whoopi Goldberg and Academy Award® nominees Will Smith, Uma Thurman and Queen Latifah. Fox's feature credits include Quentin Tarantino's "Kill Bill," "Ella Enchanted," "Independence Day," "Soul Food," "Batman and Robin," "Kingdom Come," "Why Do Fools Fall In Love," "Juwanna Mann," "Boat Trip" and "Idle Hands." She also co-produced and starred in "The Salon" with Academy Award® nominee Terrence Howard. Fox's television films include Showtime's "Hendrix" and the ABC/Disney movie, "A Saintly Switch," opposite David Alan Grier and Rue McClanahan.
On the comedic film front, Fox co-starred with Jessica Simpson in "Private Valentine," as well as produced and starred in "Three Can Play That Game" with Tony Rock. Switching over to dramatic roles, Fox starred as an FBI Agent in the suspense thrillers "Junkyard Dogs" and a detective in "Trapped in Haitian Nites." Fox returned to her action roots in "The Hard Corps," with Jean-Claude Van Damme, and also co-starred in "Cover," directed by Bill Duke.
In the world of reality, Fox hosted TV Land's, "The Cougar," and teamed up with VH1 to executive produce and host "Glam God." Vivica was also a fan favorite on ABC's, "Dancing with the Stars" and served as a judge alongside Academy Award winner Faye Dunaway on the WB's "The Starlet."
On the Fox Network, Vivica also enjoyed success headlining her own sitcom, "Getting Personal," opposite Elliot Gould, Jon Cryer and Duane Martin. Fox's numerous television credits include "Alias," "My Wife & Kids," "All of Us," "Eve," and "Out All Night."
In 2008, Fox was honored at the NAACP Theater Awards where she received the prestigious Spirit Award for starring in and producing the stage play "Whatever She Wants" alongside Boris Kodjoe and Richard Roundtree. In 2005 and 2006, Fox won the NAACP Image Award and the Prism Award for Best Actress in a Television Series—Drama. In 2003 she was honored with the Lady of Soul Lena Horne Career Achievement Award. She and Will Smith won the MTV Movie Award for Best Kiss for "Independence Day." Fox has also been voted one of People magazine's fifty most beautiful people.