Playing Father
CAST:
Eddie Cibrian Josie Davis Alan Thicke
Trumpet virtuoso Clay Allen (Eddie Cibrian) lands a job teaching music at a local high school. With no actual teaching experience, Clay dives in hoping to teach the kids to love music as much as he does. Unfortunately, Clay realizes that the students are just in the class for an easy 'A'. While working one weekend Clay discovers that his trumpet is missing. His search ends when he hears sweet and melancholy music coming from the football stadium. There, he discovers one of his students, TJ (Chris Sheffield). With new found support and encouragement from April (Josie Davis), the school Principle, Clay decides to form a Jazz Band. However, TJ's mother does not approve of her son playing in the band. She's afraid that TJ will turn out to be like his father who abandoned their family to pursue a failed music career. Clay must figure out a way to help TJ become the talent he is destined to be. The fatherly instincts he failed to comprehend with his own son now shine through in his new relationship with TJ. Once Clay realizes how to be a father he reaches out to his son in an attempt to forge a lasting bond. Ultimately, Clay's Jazz Band, with the help of the community, comes together to perform at the Battle of the Bands. At this showcase no one can deny that TJ is a true talent and he is rewarded with a scholarship at the Music Conservatory.
CAST BIOS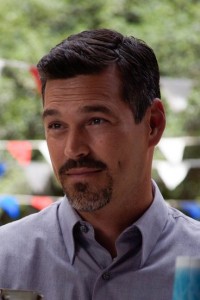 EDDIE CIBRIAN (Clay)
– A versatile actor who continues to expand his career in television and in film, Eddie Cibrian has become one of the most recognized and talented actors in the business today. This past fall Eddie starred in the short lived NBC 60's period-piece, "The Playboy Club." Using the proliferation of the then Chicago-based Playboy empire as a backdrop, Cibrian played Nick Dalton, the handsome mob-tied lawyer and man-of-the-town who frequents the club and its bunnies. For the recent years leading up to this role, Cibrian starred for five seasons as firefighter Jimmy Doherty in the popular NBC series, "Third Watch," and also starred in the ESPN series, "Tilt," followed by the ABC series "Invasion," Fox series "Vanished" and most recently playing the role of Jesse Cardoza on the hit CBS television series, "CSI: Miami." Born and raised in California, Cibrian began his acting career at the age of 12, landing a Coca-Cola commercial on his very first audition. Following the success of that spot, Cibrian appeared in numerous other national commercials. Upon entering high school, Cibrian decided to put his acting career on hold to pursue his other passion – sports. He excelled in every sport he competed in, including football, baseball, soccer and volleyball, and graduated high school with several All-State honors. Cibrian continued his successful athletic career when he entered UCLA's football program in the fall of 1991. Unfortunately, an injury during his first year on the team left Cibrian sidelined and with extra time on his hands. The lack of physical activity left a void in Cibrian's life, so he decided to return to acting. Cibrian immediately landed several national commercials and soon after, starred in Malcolm-Jamal Warner's Emmy-Award winning television special "Kids Killing Kids." The attention Cibrian garnered for his appearance on Warner's special led to several soap opera auditions, one of them being for the role of Nick Newman on CBS's "The Young and the Restless." Although the show's producers felt that Cibrian was too old to play Nick, they were extremely impressed with his acting abilities and created a character for him on the show, that of the conniving Matt Clark. Within three months, Cibrian had received so much fan mail that CBS signed him to a three-year contract. After appearing on "The Young and the Restless" for two years, Cibrian starred in several television shows including "The Bold and the Beautiful," "Baywatch Nights," "Beverly Hills 90210," "Sabrina The Teenage Witch" and "Saved by the Bell: The College Years." It was not long before Aaron Spelling offered Cibrian the starring role of Cole Deschanel on the NBC daytime drama, "Sunset Beach." Just five months after his debut, TV Guide named Cibrian one of "Daytime's 12 Hottest Stars." Coinciding with "Sunset Beach," Cibrian also found time in his busy schedule to star as the lead in a CBS movie-of-the-week, "Logan's War: Bound by Honor." Cibrian's other television credits include the Lifetime movie, Jackie's Back, and the NBC biblical mini-series "In the Beginning," with Martin Landau, Jacqueline Bisset and Billy Campbell. Prior to "CSI: Miami," Eddie appeared simultaneously in recurring roles on three series – the role of Coach Diaz on the ABC series, "Ugly Betty," the role of Eddie LaRoche on the USA cable series, "The Starter Wife" and the role of Kevin in the ABC series, "Samantha Who." In 2009, he starred in the Lifetime Movie "Northern Lights" and in March 2010 was seen in the lead role in the Hallmark movie, "Helping Hands." Eddie's feature motion picture credits include the soon to be released Tyler Perry film, "Good Deeds," his memorable performance in "Living Out Loud," the sci-fi/horror film, "The Cave," 20th Century Fox's "Say It Isn't So" starring Heather Graham and Chris Klein and Fine Line's "But I'm a Cheerleader" starring Natasha Lyonne and Clea DuVall. Cibrian is the proud father of two sons – ages 8 and 4 and is married to country singer, actress LeAnn Rimes. In his spare time, he enjoys playing golf, football, tennis and basketball, and is involved with the Make-a-Wish Foundation, as well as several other charitable organizations.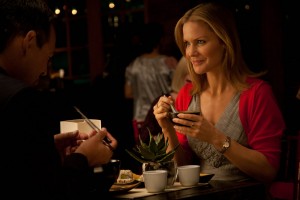 JOSIE DAVIS (April)
– Josie began her acting career on the hit television series "Charles in Charge" which she starred on for four and a half years. She then transitioned from child actress to series regular roles on "Beverly Hills 90210" on FOX and "Titans" on NBC, followed by a lead role in Nicholas Cage's directorial debut "Sonny," opposite James Franco and Scott Caan. Davis' feature film credits also include "Carolina Moon," opposite Claire Forlani and Oliver Hudson, "The Perfect Assistant," "Seduced by Lies," and "The Perfect Student" for Lifetime. Davis can next be seen in the indies "Past Obsessions" and "High School Crush." Television credits include a recurring role on "CSI: NY" and guest stars on "Two and a Half Men," "Chuck," "Bones," "Rules of Engagement," "Burn Notice," etc. Davis has an upcoming guest star on TNT's new drama, "Breakout Kings." Josie is a lifetime member of The Actors Studio. She would like to thank her sweethearts Eddie, Brad, Ralph, Jack, as well as everyone involved in the project. She also thanks Marin Landau and Mark Rydell for their constant knowledge and support. www.JosieDavis.com.
ALAN THICKE (Pops)
– You probably know Alan Thicke best as the Golden Globe and Emmy nominee (7 times), often hailed as 'America's Dad' for his seven years as patriarch Jason Seaver on television's hit "Growing Pains." This popular 'Go-To Boomer' is the guy they call for recurring roles on contemporary TV comedies such as "How I Met Your Mother," "Tosh.0," Will Farrell's "Funny or Die," "Attack of the Show," "Tim and Eric's Awesome Show," "I'm with the Band" (Disney)…and in movies such as last year's "The Goods: Live Hard, Sell Hard," with Will Farrell and Jeremy Piven, and the upcoming "Donny's Boy" with Adam Sandler. Alan has hosted blockbuster Television Event specials as diverse as The Emmy Awards; ABC's Olympic Gala, ABC's Disney Christmas and Easter Parades, the Miss Universe and Miss USA Pageants; Showtime's Comedy All-Stars; and NBC's World's Greatest Magic. Appearing in person, Alan has headlined the main Vegas showrooms of the Hilton, Desert Inn, and Sands, as well as Atlantic City's Resorts International, and The Foxwoods and Turning Stone Casinos. Alan's two humor books, How Men Have Babies: The Pregnant Father's Survival Guide, and How to Raise Kids Who Won't Hate You are perennial favorites, especially now that his middle son is a global Rock Star and fans are curious! In recent years, his distinctive charm and humor have established Alan Thicke as one of America's most sought-after event hosts and keynote speakers. Just ask…IBM, Ford, RE/MAX, Wal-Mart, Slim-Fast, Utah Governor's Conference, JFK Medical Center, Humana Hospitals, OrthoBiotech Industries, Toronto Dominion Bank, Borden, Hormel, Nestle, Mattel, Baskin-Robbins, Brite-Smile, The Michael Jordan Celebrity Golf Invitational, The Fans' Choice Sports Awards (Boston, Detroit, LA, Phoenix), The NHL Awards, The Raymond Floyd Lexus Golf Gala, and the Montreal Comedy Festival's Just for Laughs, just to name more than a few. Alan has also addressed Congress on behalf of Diabetes Research. "Alan Thicke's Hot Package" (a parody of Tabloid Television) debuts in April on the Adult Swim network. For additional information on Alan Thicke, please go to www.AlanThicke.com