Puppy Love
Starring Candace Cameron Bure and Victor Webster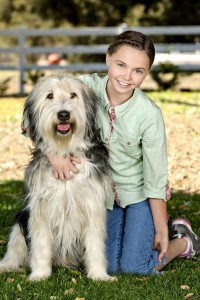 In a quite suburb, professional minor league baseball player Ben Fuller wakes up to his big and lovable dog, Jake, licking his face.  Ben is leaving for the week to play a few games on the road, and trusts his friend Ryles to look after Jake while he's gone.  But, as soon as Ben pulls out of his driveway, Jake paws at the door and is soon making an escape.  He runs down the road, right past the car of Megan Nolan and her ten-year-old daughter, Caitlin, who have just moved to the neighborhood.  Megan is starting a new job as a professor at the local university, and Caitlin is struggling with the move already, missing her friends back home.
When Ryles arrives at Ben's house that night to check in on Jake, he finds him missing and immediately panics.  Meanwhile, Megan is disappointed to find out there aren't many kids Caitlin's age in the neighborhood, and Caitlin's closest friends so far seem to be the neighborhood pets.  Soon, Caitlin is begging her mom for a dog of their own, feeling lonely in their new town.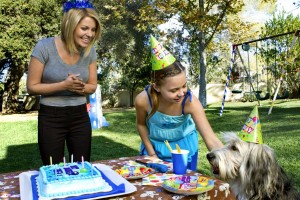 Ben returns home a week later to a remorseful Ryles, who admits Jake took off.  Ben and Ryles drive all around town looking for Jake at the usual spots he runs off to, but have no luck.  Just as he remembers a dog shelter in a neighboring town, Megan comes to the decision to take Caitlin to get a rescue dog.  Seeing Jake in the shelter, Caitlin immediately recognizes him as the stray they passed in their car and she begs her mom to get him.  Reluctantly, Megan agrees on Jake, who is large and filthy.
As soon as Megan and Caitlin finally get Jake in their backseat, Ben screeches into the parking lot of the shelter, blocking Megan.  Angry, Megan gets out to yell at Ben, and there is an instant spark between them as they face off.  Ben, annoyed, brushes her off and runs into the shelter, where a new employee has just started his shift.  He tells Ben he hasn't seen Jake in the shelter, but he's welcome to post his lost dog flier on the bulletin board.  Ben leaves, defeated.
Megan and Caitlin bring Jake home, where Caitlin gives him a bath before unsuccessfully trying to train him.  Caitlin is completely content with her new dog, while Megan struggles with his unruly behavior.  Seeing Jake is an untrained monster, Megan is regretting agreeing to adopt him.  Then, the next day, when the animal shelter employee who gave Jake to Caitlin sees the poster Ben tacked up, he realizes what has happened.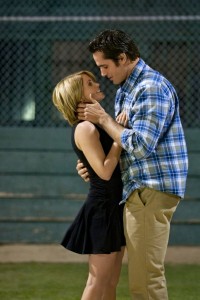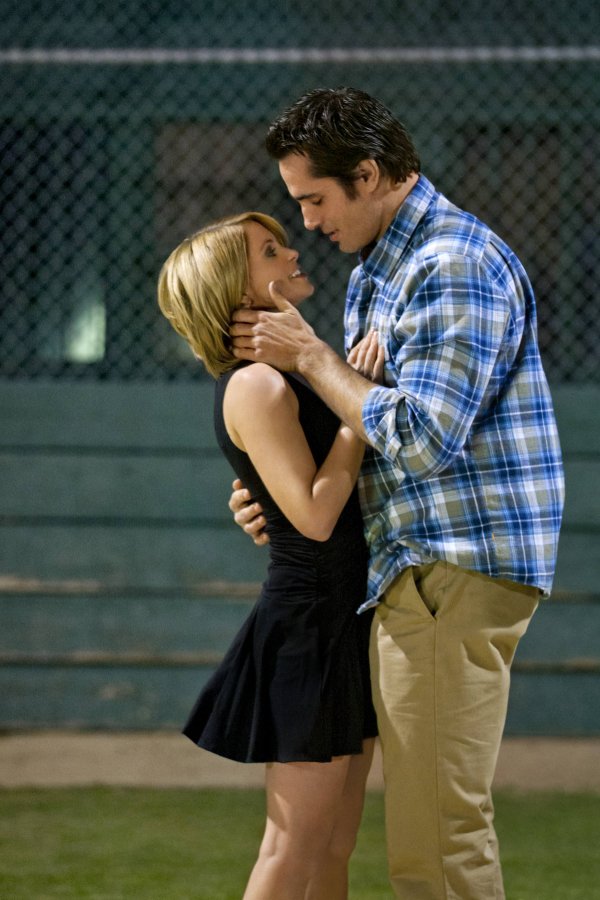 Soon, Ben is ringing Megan's doorbell.  When she answers, she is surprised to see Ben, who she recognizes from the parking lot.  Jake bounds over to Ben, happy to be reunited, but Caitlin, hearing the news, is in tears.  She pleads with her mom not to let Ben take her dog.  Seeing how much Caitlin already loves Jake, and hearing about her struggle with the recent move, Ben makes an offer—they will share Jake.  When he goes away for games, Caitlin can watch him.  Megan hates this idea, but Ben is so charming, neither can resist the arrangement.
Although there is an attraction between Megan and Ben, Ben insists to Ryles he doesn't need a girlfriend telling him what to do.  Still boyish, Ben doesn't have any life plans besides playing baseball and getting to the major leagues.  Likewise, Megan declines her friend Gail's offer to go out on a double date, saying she has no time for a relationship.
Megan and Ben continue sharing Jake, shuttling him between them every other week.  Megan, fed up with Jake's bad dog behavior, signs up for training lessons.  Soon, Jake is well-trained, much to Ben's frustration.  He is dumbfounded Megan has changed his beloved companion into an obedient lap dog.
On the road, Ben gets tendonitis in his pitching arm and is saddened to hear he will have to sit out until it heals.  His coach encourages him to think about what he will do after his baseball career ends.  Returning to town, Ben goes to pick up Jake from Megan's house, and as they argue about Jake's training, Jake runs out into the street and is hit by a car.  Megan and Ben rush him to the hospital, both upset.  Although he is bruised, Jake lives through the accident.  Overcome with emotion, both Ben and Megan are surprised to find they are hugging in relief.
Megan invites Ben over to get Jake settled in at her house for the night.  As they put him in a comfortable bed to rest, Megan and Ben bond over sharing responsibility for the dog.  They call a truce for Jake's sake, hoping never to see another accident.  With Jake on the mend, Megan and Ben's relationship gets friendlier as they both care for him and check on him frequently.
A few days later, when Caitlin's babysitter cancels, Megan calls Ben to ask him to watch her.  Ben is happy to do it, taking Caitlin for ice cream and pizza, and recruiting her to help him pick out some shoes for Megan, knowing Jake chewed Megan's favorite heels.  Megan is delighted with the gifts, almost leaning in to kiss Ben before stopping herself.  After she puts Caitlin to bed that night, she thanks Ben again for his help babysitting, and he summons up the courage to ask her on a date later that week.
For their date, Ben surprises Caitlin with a beautiful picnic on his old high school baseball diamond.  Over champagne, they talk about their careers, and Ben confesses he is still hoping to make the major leagues.  At the end of the night, they suddenly kiss, but Megan quickly pulls away and heads home, confusing Ben.  At home, Megan confesses to Gail she's having second thoughts about dating Ben because his future is so uncertain.
The next day, when Ben drops Jake off, Megan asks him to be friends, and Ben can't hide his disappointment.  He sadly agrees, and drives off.  As they continue to share custody of Jake, keeping each other at a distance, both Megan and Ben feel torn about their relationship, missing each other.
Seeing her mom miserable, Caitlin comes up with a plan to get Ben and Megan back together.  Caitlin and Gail plan a birthday party for Jake in Megan's backyard, complete with cake and gifts, slyly leaving Megan and Ben alone.  Sheepishly, the couple reunites, promising to give  dating another try.  Everyone is happy until suddenly, Ben's coach calls with the news that he has been traded to a team on the East coast, and he'll have to move for at least a year.
Faced with a tough decision, Ben decides to move, and offers to let Caitlin keep Jake permanently.  Caitlin insists Ben take Jake with him, since he won't have any friends in his new town.  Megan and Ben are touched by her maturity, and all of them say a tearful goodbye.
Megan and Caitlin start school a few days later, both struggling with missing Ben and Jake.  Gail stops by and suggests taking them to the dog park to play with her dog, and Megan reluctantly agrees.  When they get to the park, Megan and Caitlin are shocked to see Jake bounding toward them, with Ben not far behind.  As Megan and Ben reunite, Ben admits he sees his future with her and Caitlin, and has quit the team and moved home to be a high school baseball coach.  Megan is ecstatic as they kiss, celebrating with their family, friends and, of course, Jake.
CAST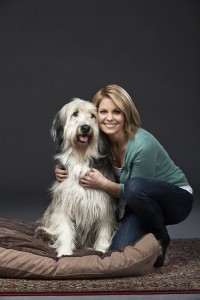 CANDACE CAMERON BURE (Megan) – Many audiences know Candace Cameron Bure from ABC's hit television series, "Full House," where we affectionately knew her as D.J. Tanner. Still running in over 100 countries in syndication, Bure will forever be part of TV history through Nick At Nite and ABC Family network lineups.
With an acting career that started at the age of five, Bure appeared in several national television commercials and prime-time hits such as "St. Elsewhere,"  "Growing Pains" and "Who's the Boss." Candace also earned a string of lead roles in television movies including the critically acclaimed portrayal of an abused teenager in "No One Would Tell."
Her feature film credits stand up to the light of her television success with appearances in such films as "Punchline" with Tom Hanks and Sally Field. She entered another genre of pop culture when she was cast in John Hughes' "Some Kind of Wonderful" and the Cohen Brother's film "Monster Mash."
After Bure married NHL star Valeri Bure in 1996, she put her career on ice for a while in order to stay home and raise a full house of her own. She has been happily married for over 13 years and is the proud mother of three awesome kids.
Over the last few seasons, Bure has appeared in an episode of Disney's "That's So Raven," starred opposite Randy Travis in the PureFlix film "The Wager" and has fulfilled the duties as a guest host on ABC's top rated, daytime hit show "The View." Bure most recently starred in the made for television Hallmark Channel Original Movie, "Moonlight & Mistletoe" and now most notably is in the midst of completing episodes as her character Summer Van Horn on ABC Family Network's bona-fide hit show "Make It Or Break It." Since its debut, "Make It Or Break It" has scored huge numbers in the Nielson ratings each week as television's #2 most watched show in its time slot for females ages 12-17, with an overall average viewership of almost 2.4 million each week over the first ten weeks of the series.
Bure's philanthropic spirit has given support to the Skip1.org, Compassion International, Sheraton House and Children's Hunger Fund. Bure serves as the National Ambassador for National House of Hope and all the while continues to travel the country speaking at various churches and women's conferences sharing her Christian faith.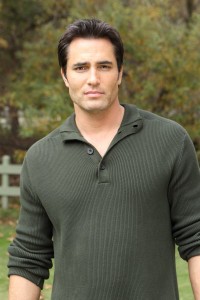 VICTOR WEBSTER (Ben) – Victor Webster was born in Calgary, Alberta, Canada.  The son of a police officer and a hair-stylist, Webster was interested in acting from a very early age.  Participating in many school plays and theater classes helped him to realize his love of the art. Having never lost his passion for acting he chose to venture into the business world to try and carve out a life for himself.  Years as a stockbroker and then owner of an import export company left him feeling unfulfilled.  A chance encounter then provided him an opportunity to pursue his dream.
It was at this point that Webster was approached for an acting gig. He got that job and wound up starring on an NBC daytime series.  He immediately followed that with a starring role on the Emmy® Award winning AMC Network series "The Lot" and then the number one nationally syndicated action series "Mutant X".  With this Webster caught the attention of People Magazine and was named one of their "50 Most Eligible Bachelors."  He then began his film career in the box office smash "Bringing Down the House" and currently has two films scheduled for release this year and three in pre-production.
As a teenager, he frequently found himself in trouble because of his misguided behavior.  Martial arts proved to be the perfect outlet.  Webster spent many years teaching and competing, achieving an undefeated record in the heavy weight Black Belt division, as well as an undefeated record as an amateur kick-boxer.