Reading, Writing and Romance
CAST:
Eric Mabius
Virginia Williams
Stefanie Powers
Martin Mull
Meredith Baxter
Struggling actor Wayne Wenders (Eric Mabius) is just that…struggling. Ever the optimist Wayne is certain that his big break is just around the corner, but in the meantime, the bills need to be paid. At the urging of family friend and School Principal (Stefanie Powers) he reluctantly accepts a substitute teaching job at the Creative Arts and Technology School. Wayne initially falters in this unfamiliar role as he fails to be taken seriously by his students and the particularly watchful eye of the Vice Principal. But with guidance from fellow teacher Ms. Amy Danville (Virginia Williams), Wayne discovers he is uniquely adept at encouraging his students to enjoy learning by organizing a student film festival. Not only does Wayne win over his classroom but he captures the affection of the lovely Ms. Danville as well. Just as it seems Wayne has settled in he gets the news he's been waiting for: he's been offered the lead role in a zombie movie! Unfortunately, filming begins in Canada a week before the school's festival. Doing the movie means certainly disappointing his students and Amy. Wayne must decide what is most important – pursuit of his lifelong dream or upholding the commitments he's made.
CAST BIOS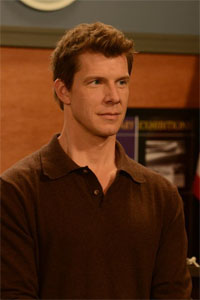 ERIC MABIUS (Wayne) – After graduating from high school in Amherst, Massachusetts, Eric attended the renowned arts school, Sarah Lawrence College. Immersing himself in acting, writing and film theory, college became the jumping-off point for his first roles in the theater in several Off-Broadway productions. Soon after graduating college, Mabius landed his first film role as the object of Heather Matarazzo's affection, the teen rock star Steve Rogers, in Todd Solondz's Sundance Grand Prize Winner, "Welcome to the Dollhouse" (1995).
Throughout the course of his career, he has appeared in nearly thirty feature films (seven of which screened at Sundance) and two dozen television projects. The independent feature comedy entitled "Price Check," in which Eric stars alongside Parker Posey, premiered at last year's Sundance Festival and was quickly purchased by IFC. Eric portrays a down-and-out family man whose life changes suddenly with emergence of a new, sexy boss. Eric also starred in "Where the Road Meets the Sun," a drama that focuses on a man who must recover from a traumatic coma. The films garnered praise and critical acclaim throughout their lengthy festival runs.
Eric was widely acknowledged for his role in the ABC award-winning series "Ugly Betty," playing Daniel Meade, the womanizing Editor-in-Chief of a fashion magazine. The show, which aired for 4 seasons, went on to receive numerous awards (Golden Globe, Emmy and SAG) for its all-star cast, which also included Vanessa Williams and America Ferrera. His career includes roles in many genres, ranging from action ("Resident Evil" and "The Extreme Team"), drama ("Cruel Intentions," "The L Word," "The O.C."), comedy ("Franklin & Bash," "Welcome to the Dollhouse" and "Wirey Spindell"), mystery ("The Minus Man"), horror ("The Crow: Salvation," "Reeker" and "Black Circle Boys"), and romance ("How To Fall In Love" and "Splendor").
Appearing most recently on ABC's much-watched "Scandal" and CBS's acclaimed procedural show, "Blue Bloods," Mabius's career constantly alternates between film and television
and always involves unique and varied projects. Eric can also be seen in projects across the pond, as in BBC One's critically acclaimed eight-part science fiction miniseries entitled "Outcasts," wherein he portrays the power-hungry Julius Berger, aiming to pull off a planetary coup d'etat. He is set to begin principle photography on his second film in China, this summer, in acclaimed Chinese director Sherwood Hu's epic 1920's gangster film, "Lord of Shanghai."
In February of 2006, Mabius married his long-time girlfriend, artist and interior designer Ivy Sherman, in their home in New Orleans. They have two sons, Maxfield and Rylan.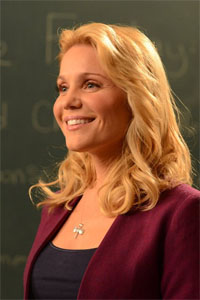 VIRGINIA WILLIAMS (Amy Jones) – Accomplished actress Virginia Williams is best known for her work in the USA series "Fairly Legal." Williams portrayed Lauren Reed, a tough as nails attorney, who is called to take over her husband's firm when he unexpectedly passes, all the while dealing with her troublesome and defiant step-daughter of the same age. This multilayered role allowed her to explore a common relationship dynamic with an unconventional twist.
On the big screen, Williams recently wrapped production on the indie features "The Culling" and "Sleeping Around," and sang lead vocals for the upcoming "Choosing Signs."
Williams is also the face of La Fresh, a natural skin care company that specializes in Eco-Beauty wipes. She has collaborated with La Fresh since they launched their commercial campaign in 2012.
For the past four seasons, Williams has had a recurring role on the CBS hit series "How I Met Your Mother." Her character Claudia is a friend of the gang's and went to college with Ted, Marshall and Lily.
Williams has appeared in over 30 television series including "Better Off Ted," "Two and a Half Men," "Veronica Mars," and "Cold Case." Additionally, in 2010, she starred with Raven Simone in the People's Choice nominated "Revenge of the Bridesmaids" for ABC Family.
In 2006 Virginia landed the starring role in the Lifetime Original Series "Monarch Cove."
She also played Shelley Long's jilted-at-the-alter daughter in the film "Honeymoon with Mom," and recurred for two seasons on the cult-classic "Strangers with Candy."
Williams began her career as a high school student, starring for two years on the soap operas
"One Life to Live" (Lorna) and "As the World Turns" (Brandy). She earned a B.A. in Theatre Performance from Fordham University at Lincoln Center and studied Shakespeare at Oxford University, as well as with the British American Drama Academy in London. Raised in Memphis, TN, she is fiercely loyal to her Southern roots, where she first fell in love with the craft.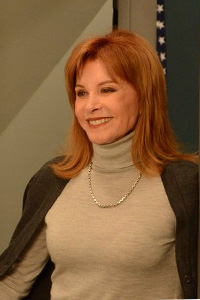 STEFANIE POWERS (Brenda) – Stefanie Powers began her career at age 15, dancing for famed Broadway choreographer, Jerome Robbins. She was put under contract to Columbia Pictures in the final years of the Hollywood star system. While under contract, she appeared in 15 of the 31 motion pictures she has made, co-starring with screen legends such as John Wayne, Maureen O'Hara, Lana Turner, Ava Gardner, Cliff Robertson, Elliot Gould, Roger Moore, Donald Sutherland, Bing Crosby, Glenn Ford, Lee Remick, James Caan and Sammy Davis. She recently co-starred with Richard Chamberlin in the critically acclaimed independent film, "Three Days of Hamlet."
Her first television series, "The Girl From U.N.C.L.E.," marked a milestone in U.S. television's history as the first hour long series featuring a female in the leading role. Her television career includes over 25 mini-series, over 200 episodic guest starring appearances, 35 movies for television and two more television series, "Feather and Father" and the long running "Hart to Hart," starring opposite Robert Wagner.
She became a member of the Screen Writers' Guild of America in the 1980s and has produced several of the screenplays she has written, one of which, "Family Secrets," was not only a stepping stone for the careers of James Spader and Gary Sinise but it garnered her a nomination for the best screenplay of the year by her peers in the Writers' Guild. Her writing has extended itself to a memoir called, One From The Hart, published by The Robson Press.
Throughout her career she has never neglected her theatrical roots, appearing in productions of; "How the other Half Loves," "Under the Yum Yum Tree," "Sabrina Faire," "View from the Bridge," "Oliver," "Annie Get Your Gun," the West End debut of "Matador", off-Broadway in "The Vagina Monologues," back to the West End with Robert Wagner in "Love Letters," which they also toured the United States with, becoming the cast most associated with the play after over 500 performances.
She once again appeared in the UK in the West End production of "The King and I," which also toured the United States for ten months. As a result of the successful remounting of the musical "Sunset Boulevard" at the Ogunquit Theatre, a US revival is being planned. She appeared once again in the UK in 2012 co-starring opposite Richard Johnson of Royal Shakespeare Company fame, in the play, "On Golden Pond." She has recorded a CD with the legendary jazz artist Page Cavanaugh called On the Same Page, available online at Jambomusic.com. Also in 2012 she performed her one woman show, "Hart of my Heart," a tribute to the life and the lyrics of Lorenz Hart at the newly opened Matcham Room at the Hippodrome.
As much a part of her life as her career, is her devotion to animal preservation and protection, which at times becomes more of a vocation than an avocation. She is founder and president of the William Holden Wildlife Foundation, established in 1982 to continue and to further her long-time partner's conservation work in East Africa after his death.
She was appointed conservation consultant to Jaguar and Land Rover after creating the Jaguar Conservation Trust which she has operated in Central America. She has been on the advisory board of four zoos in the United States and is a fellow of the Los Angeles Zoo, the Explorers' Club, and the Royal Geographic Society. She is active in the movement to preserve and protect the remaining herds of the North American wild horses and has received numerous international awards for her grass roots work in conservation which she considers a life-long commitment. She resides part of the year in Kenya.