Reluctant Nanny
CAST:
Jessy Schram
Aaron Hill
Tamara Taylor
Elisabeth Rohm
Alley Mills
After the failure of her start-up company, Libby Prescott (Jessy Schram) has packed up her life and moved to Los Angeles to start her new job. However, her first day of work abruptly turns into her last. Later that day, Libby finds herself chasing a man who stole her purse, but is quickly stopped by police officer, Dan Connor (Aaron Hill). Dan, who is currently looking after two foster kids, suggests that Libby work as his live-in nanny until either the kids find a permanent home or she finds a new job. Unwilling to turn down a job offer in her time of need, Libby accepts the position. But playing house isn't as easy as it sounds. Libby must learn to keep house and care for children for the first time in her life. Furthermore, the children's constant fear of abandonment forces Libby to really consider the responsibility she's taken on. As Libby and Dan grow closer to the kids, a familial bond begins to form, making it difficult to think about life without each other. Just when Dan decides to officially adopt the children, Libby is offered the job of her dreams. The only problem being that the opportunity would take Libby far away from her new family, the dream she never knew she had.
CAST BIOS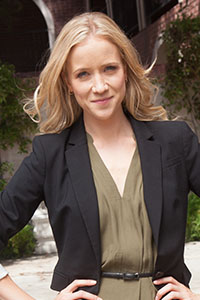 JESSY SCHRAM (Libby) – Upon her arrival in Los Angeles at 18, Jessy's charisma and poise quickly made her a favorite of high-end television producers, who repeatedly cast her on such hit shows as "Veronica Mars," "Medium," "House M.D.," "The Mentalist," "CSI: Miami," "Crash," "Without a Trace," and "Boston Legal." Jessy also starred in "Jane Doe," a series of 8 two-hour movies that aired regularly on the Hallmark Channel.
In features, Jessy has scored with A-listers and auteurs alike — from the indie teen drama "Keith" and the ensemble comedy "I Want Someone to Eat Cheese With" with Jeff Garlin, Sarah Silverman and Amy Sedaris, to the highly coveted role of Chris Pine's brave and devoted young wife Darcy, in Tony Scott's action-thriller, "Unstoppable" and the upcoming feature "The Submarine Kid" with Finn Wittrock and Emilie de Ravin.
In fact, Jessy so entranced director/producer Greg Beeman when she worked with him on Steven Spielberg's TNT drama "Falling Skies," that he cast her in the hit ABC fairytale drama "Once Upon a Time," where she recurs as Cinderella opposite Ginnifer Goodwin and Robert Carlyle as Snow White and Rumplestiltskin, respectively, and "Once Upon a Time in Wonderland" where she first appeared as 'Cinderella.'
Jessy is certainly a TV star on the rise- being welcomed into homes across the country as Karen in "Falling Skies," Cinderella in "Once Upon a Time," as a series regular as Speedman's wife Christine in the ABC series "Last Resort," as Bonnie Whiteside in "Mad Men" and as Nance O'Keefe in Lifetime's upcoming miniseries "Lizzie Borden," opposite Christina Ricci as Lizzie Borden.
Jessy is also a budding singer/song-writer, touring with Chicago blues artist Joan Baby, as well as performing solo in such renowned Southern California music venues as the Hard Rock Cafe and The Knitting Factory.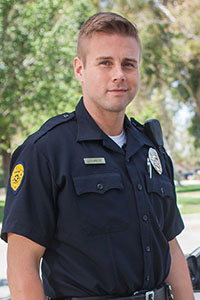 AARON HILL (Dan) – Aaron began acting in stage productions as a young child, but did not make the leap to on camera work until graduating from high school. He has amassed over 100 episodes of television, as well as several appearances in movies of the week and feature films.
Perhaps he is best known as The Beaver, from the ABC Family series, "Greek." Some memorable appearances on other shows include "Glee," "Mad Men," "Castle," "Baby Daddy," "NCIS," "Perception" and "Rizzoli & Isles."
Recent credits include the Untitled Christmas Eve comedy feature with Seth Rogen, "Get a Job" with Anna Kendrick and Bryan Cranston; a recurring role on "Twisted" from ABC Family; and "A Perfect Christmas List" opposite Richard Karn, Marion Ross and Beth Broderick; as well as a lead opposite Jessy Schram in "Reluctant Nanny" for PixL.
Aaron lives in the Los Angeles area with his wife, Chelsea, and two dogs. Aaron and Chelsea look forward to welcoming their first child this year. In his free time he enjoys playing poker, working out, cooking healthy meals and donating his time to several charities.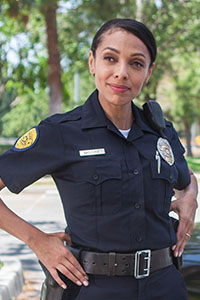 TAMARA TAYLOR (Andrea) – Tamara Taylor can currently be seen starring as Dr. Cam Saroyan on Fox's long running hit series "Bones," which is currently in its tenth season. Her career originally began with quick success in nationally televised commercials. Just months after moving to Los Angeles from her native Toronto, she booked parts both in television and film.
Taylor's first big break came when she landed a series regular role on "Party of Five" as Grace, opposite Matthew Fox. Later, she starred as Dr. Ana Syphax in Steven Bochco's drama "City of Angels," with Blair Underwood; as Sarah, opposite Paula Marshall on "Hidden Hills;" and as Nina in "Sex, Love & Secrets," with Denise Richards and Eric Balfour. Among dozens of memorable guest appearances, Taylor was also seen on "Lost," "Numb3rs," "CSI: Miami" and "NCIS."
Taylor made her feature film debut in the romantic comedy "Senseless," starring David Spade and Rip Torn. She was also seen in the critically acclaimed cable biopic "Introducing Dorothy Dandridge;" Tyler Perry's box office hit, "Diary of a Mad Black Woman;" and Joss Whedon's sci-fi adventure, "Serenity."
She currently lives in Los Angeles.
[/two_third_last]