Rescuing Madison
CAST:
Alona Tal
Ethan Peck
Ted McGinley
Sherilyn Fenn
C. Thomas Howell
Pop sensation, Madison Park (Alona Tal), is finally back on the music scene after a six year hiatus. Suddenly, Madison's life is turned upside down when she's saved from a burning building by handsome fireman, John Kelly (Ethan Peck). Once devoted to her sweetheart and band mate, Jordan Vanderpool (Zack Lively), her manager, Rad (C Thomas Howell) attempts to use John as a publicity stunt but Madison finds herself falling for the firefighter. John and Madison each delve into the others' life, leaving Rad threatened by Madison's new sense of individuality. Madison's relationship with John is compromised as Rad interferes in an attempt to refocus Madison on her career. Under pressure from her manager and the media, Madison is forced to defend her love and prove that their relationship can break the boundaries of vastly different worlds.
CAST BIOS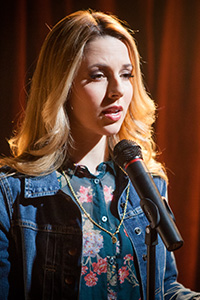 ALONA TAL (Madison) – Alona Tal captured the industry's attention upon beating out Hollywood's hottest "IT" girls for a breakout role in the Allen Hughes-directed film, "Broken City." She starred opposite Mark Wahlberg in this political thriller about an ex-cop turned private investigator who trails the wife of New York City's mayor only to find himself immersed in a larger scandal. This film co-stars Russell Crowe and Catherine Zeta Jones, and was released by Fox/New Regency on January 18, 2013.
In February 2013, Tal started as a series regular in the CW thriller, "Cult," from "Gossip Girl" producers Josh Schwartz and Stephanie Savage. "Cult" depicts the dark underworld of the fictional TV show "Cult," which becomes an obsession for its viewers, some of whom begin taking their fixation to deadly extremes in the real world. The fictitious show "Cult" centers on the cat-and-mouse game between charismatic cult leader Billy Grimm (Robert Knepper) and LAPD detective, Kelly Collins, played by Tal.
Born and raised in Herzliya, Israel, Tal spent two years in the Israel Defense Forces, prior to becoming an actress. Upon graduating from the Army, her first starring role was the lead in Israeli film, "Lihiyot Kochav" (To Be a Star). During the filming of the movie, she was offered roles in soap opera, "Tzimerim," and the sitcom "HaPijamot." Tal did four seasons of the sitcom, which eventually gave her the chance to showcase her musical talent. Following this, she recorded several songs with Israeli rapper, Subliminal.
Upon moving to the US in 2004, Tal landed a development deal with Warner Brothers. Past credits include recurring roles on "Veronica Mars" and "Supernatural," and guest appearances on "Monk," "The Cleaner," "Lie to Me," "The Killing" and "CSI."
Tal attended the Thelma Yellin School of Arts in Tel Aviv as well as the Lee Strasberg Theatre Institute in New York City. She considers music and acting both equal passions.
She currently resides in Los Angeles.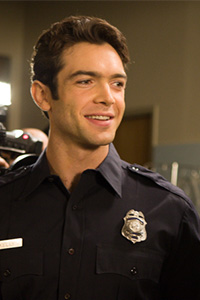 ETHAN PECK (John) – Ethan Peck, an American actor, was born in Los Angeles on March 2, 1986 and began acting at the age of 9. As a child he appeared in a number of commercials, then segued to youth roles on both TV series and cable films. Moving from comedy to drama to budding romance, he played a young Michael Kelso on "That '70s Show," and guest starred on TV series "Charlie Grace," "The Drew Carey Show," and "The O'Keefe's." In his first TV film role, he appeared on, "Marshal Law," playing Jimmy Smits' son. In 1999 he worked on "Passport to Paris" starring Mary-Kate Olsen and Ashley Olsen, a film for their direct-to-video series. From 2009 to 2010 Peck starred as Patrick Verona on "Ten Things I Hate About You," the ABC Family TV series based on the 1999 film. His appearance on those 20 episodes earned him a worldwide fan base. He has since guest starred on "Gossip Girl," and in 2012, played Prince Maxon for the pilot adaptation of the popular book series "The Selection."
In 2008, he made his feature film debut in Aaron Woodley's "Tennessee" starring alongside Mariah Carey and Adam Rothenberg. The film debuted at the Tribeca Film Festival and his performance earned him praise in a Tribeca review by Joel Keller at cinematical.com who stated,"Peck, in his first film role, is remarkable as Ellis." "Tennessee" was followed with a co-starring role opposite Peter Coyote and Bebe Neuwirth in the film "Adopt a Sailor." For his portrayal of Sailor, he received the Best Actor award at the 2009 Sonoma International Film Festival. He has since appeared in roles on "The Sorcerer's Apprentice," "Twelve," "In Time," "The Wine of Summer," "Mine Games," and "Nothing Left to Fear." He recently wrapped feature film, "Eden," in which he co-starred with Nate Parker, a dramatic thriller shot on location in Malaysia. He is also the voice of Thorne, on the video game, "Halo 4."
Peck attended private schools in North Hollywood; Campbell Hall from K-8, then high school at Harvard Westlake. While at Harvard Westlake he played defensive end in varsity football, ran varsity track and excelled in varsity lacrosse. Outside of school he studied Shotakan Karate earning the last level of brown belt before leaving for college. Aside from a full academic and athletic slate, and in between auditions, throughout junior and senior high school Peck studied classical cello, and was a member of the advanced orchestra at Harvard Westlake. In his senior year he was accepted on early admission to the Tisch School of the Arts at NYU, selected for drama studies in their ETW (Experimental Theater Wing) studio. There he received a wide range of training in voice, movement and acting while learning to create, perform and direct his own work. After three years at Tisch he took a leave of absence to return to LA for his work on the series "Ten Things I Hate About You." Now living in LA he continues to study his craft, attending a weekly acting class for professionals and still maintains a strict sports regime at Crossfit, and trains in the martial arts, Muay Thai.
Peck is the son of Stephen Peck, a former marine, Vietnam veteran, and documentary filmmaker who is now president and CEO of U.S.VETS, and the abstract artist Francine Matarazzo. He has one older sister, Marisa Matarazzo, who is a fiction writer. Ethan Peck is also the grandson of the late great Hollywood icon, Gregory Peck, and all indications are he will not only continue that legacy, but is on his way to creating one of his own.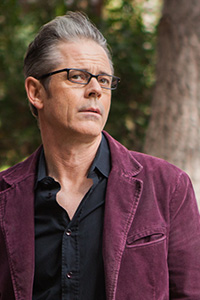 C. THOMAS HOWELL (Rad) – The son of a professional bull-rider turned stuntman, C. Thomas Howell started working in the film industry at the age of 7. In 1981, he was cast as Tyler in Steven Spielberg's "E.T. The Extra Terrestrial." Shortly thereafter, he nabbed the lead in Francis Ford Coppola's classic "The Outsiders," starring opposite the likes of Diane Lane, Patrick Swayze, Matt Dillon, and Tom Cruise. It was Howell's gripping performance as the tough, yet vulnerable, Ponyboy Curtis in "The Outsiders" that made him a household name virtually overnight.
Earmarked as one of the most promising young actors of the 1980s, Howell's career soon skyrocketed with roles in films such as the cold war invasion drama "Red Dawn," the classic psychological thriller "The Hitcher," and the hilarious but controversial college farce "Soul Man." Since then, Howell has been in consistent demand with filmmakers for the last twenty-five years, appearing in favorites such as "That Night," "Gettysburg" and "Hidalgo."
Tommy can be seen as the unpredictable Officer Bill "Dewey" Dudek in the TNT smash drama series "Southland" and as the serial killer The Reaper, on CBS' "Criminal Minds." His recent television appearances include "The Glades" on A&E as well as "Torchwood" on the Starz Channel. He also just filmed a key role in Sony's upcoming "Spider Man" reboot.
Outside of his acting career, Howell is an accomplished team roper and spends as much time as possible with his wife Sylvie and their three children, Isabelle, Dashielle and Liam.