The Michaels
CAST:
Larissa Oleynik
Brant Daugherty
Shaun Sipos
Katherine's (Larisa Oleynik) career as a successful divorce attorney has left her disillusioned with love. Her best friend, and bride-to-be, Marcie (Laura Breckenridge) holds the opposite view and encourages Katherine to be more optimistic. On their way to the nail salon Marcie reminds Katherine that her nail lady, Dora (Charlene Tilton), predicted that Marcie would meet her fiancé, Rick. When Dora tells Katherine she's destined to fall in love with a man named Michael she thinks it's all a bunch of nonsense. Rick's best man Tom (Brant Daugherty) teases maid-of-honor Katherine about it after she confesses to the prediction. But with nothing to lose she allows Marcie to set her up with a few Michaels she knows. Bad date after bad date has Katherine feeling like she was right all along. That is until she runs into an old high school flame…Michael (Shaun Sipos), of course! Could this Michael be the one? After getting to know Katherine as they help with wedding plans Tom finds himself hoping this nail lady is mistaken.
CAST BIOS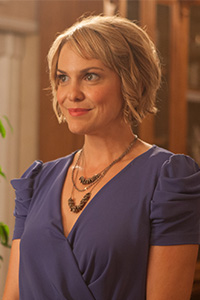 LARISA OLEYNIK (Katherine) – As the only child of attentive and doting parents, Larisa Oleynik began her theatrical training at an early age. Melodramas were often improvised in the living room to accompany her father's after dinner piano practice. At age eight, she dragged her mother to an open call for "Les Miserables" in San Francisco and won the part of Young Cosette, which she played for over a year. Oleynik then began to divide her time between normal childhood experiences in Northern California and auditions in Los Angeles.
At age eleven, Larisa landed her first starring television role as the title character in Nickelodeon's "The Secret World of Alex Mack." The show was a success for four years, drawing a diverse audience while staying true to its most devoted fan base of pre-teen girls. In 1999, Larisa starred in "10 Things I Hate about You" as Bianca, younger sister to Julia Stiles' Kat. The film was an international hit and is considered to be one of the best teen movies of all time.
Oleynik continued to juggle high school with work as a series regular on "Third Rock from the Sun" and in the features "100 Girls," "An American Rhapsody" and "A Time for Dancing," until the decision was made to focus on four years at Sarah Lawrence College. She proudly graduated in 2004 with a degree in Liberal Arts and has since resumed her training in pursuit of a lasting acting career. Recent television appearances include recurring roles on "Pretty Little Liars," "Mad Men" and "Hawaii Five-O," and guest starring roles on "Psych" and "Aliens in America." Recent feature film credits include "Jessabelle," "Pope Dreams," "Bringing Rain," "Relative Obscurity," "Together Again for the First Time" and "Broken Windows."
Larisa currently lives in Venice, CA and appreciates all that beach living has to offer.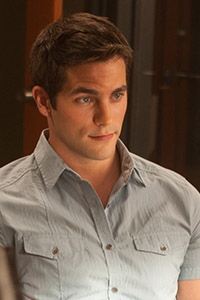 BRANT DAUGHERTY (Tom) – Brant Daugherty was born in Cincinnati, Ohio. He began his acting career on stage in local plays before attending Columbia College Chicago where he earned a bachelor's degree in film and video production.
Daugherty appeared in the Alloy Entertainment produced web series, "Private," followed by the role of Noel in ABC Family's "Pretty Little Liars," which he is probably best known for. He also recurred on NBC's popular soap drama, "Days of Our Lives," and has an upcoming lead role opposite Larisa Oleynik in the TV movie, "The Michaels."
In November, Daugherty will make his film debut in the comedy spoof, "The Starving Games," from filmmaking team Jason Friedberg and Aaron Seltzer. Daugherty will play Dale, a brooding teen heartthrob in the mold of Liam Hemsworth's character in "The Hunger Games."
Daugherty can currently be seen as Lt. Patrick Clarke on Lifetime's hit show "Army Wives."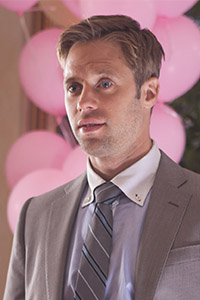 SHAUN SIPOS (Michael) – Shaun Sipos is currently recurring on CW's "The Vampire Diaries" as Aaron, who forms an intimate bond with Elena over similarly tragic pasts. He also stars in Sony's upcoming feature film entitled, "The Remaining", due to be in theaters early 2014. Earlier this year Sipos played the role of Darryl in "Texas Chainsaw 3D" for Lionsgate. Amongst numerous other films credits such as "Heart of the Country," "Hick," "Enter Nowhere," "Rampage," Shaun is also known for his television credits such as CW drama series "Life Unexpected" as Eric Daniels, the teacher and love interest of Lux Cassidy. On CW's reimagining of "Melrose Place," he played the thieving, philandering son, David, of original Melrose heartthrob Dr. Michael Mancini.