The Seven Year Hitch
Jennifer (Natalie Hall) and Kevin (Darin Brooks) have been inseparable since becoming best friends at age six.  So when Jennifer graduates from college and begins building a career in charity, she thinks it's only right to let drop-out Kevin live in her newly purchased house until he gets back on his feet.  Seven years later, Jennifer is continuing up the career ladder while Kevin is still golf caddying and waiting for his big break.  Jennifer is happy to let Kevin march to his own beat, but her new boyfriend, arrogant corporate manipulator Bryce (Ryan Doom), wants her to kick Kevin to the curb.  Oblivious to his cheating ways, Jennifer is ecstatic when Bryce asks her to marry him after only six months of dating, secretly using her angelic reputation to gain favor with his boss Mrs. Von Hoffman (Frances Fisher). 
Kevin catches Bryce cheating and is determined to spare Jennifer an unhappily ever after experience.  With a little help from his law school brother, and support from his meddling neighbor Mr. Henderson (George Wendt), Kevin finds out he is legally married to Jennifer in a common law marriage after living together for exactly seven years.  Now it's up to Kevin to prove he is Jennifer's equal – forever.
Cast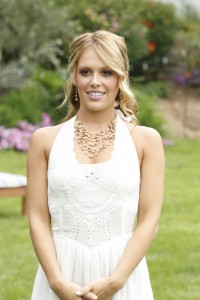 NATALIE HALL (Jennifer) – Natalie Hall hails from Vancouver, Canada and is best known for playing Colby Chandler on the ABC daytime drama, "All My Children."  She is currently shooting a lead role in the feature film, "Plus One" for director, Dennis Iliadis.  Hall has also starred on the hit ABC Family Series, "Pretty Little Liars" and most recently starred in the Hallmark Channel Original Movie Event "Love's Christmas Journey" alongside Sean Astin, JoBeth Williams and Ernest Borgnine.  Natalie's theatre credits include the National Tour of Broadway's, A Chorus Line, in which she was nominated for an Ovation Award along with the Broadway tour of Wicked and Broadway's Rising Stars at New York Town Hall.  Television appearances include the CBS dramatic series, "The Good Wife" and NBC's "Law & Order: SUV."
DARIN BROOKS (Kevin) – Born in Honolulu, Hawaii Darin Brooks began his career on-stage starring as Rapunzel's Prince in his high school's production of Into the Woods.  Not soon after he found himself on television portraying Max Brady in the Emmy® Award-winning daytime soap opera "Days Of Our Lives," from 2005-2010.  Brooks continued his roles on television series including "Miss Behave," Spike's "Blue Mountain State" and "My Wife And Kids."
Brooks has also appeared as a host for "Two Scoop" and "America Goes Bollywood."  On the big screen, Brooks' credits include, "Blue Crush," "Truth Or Dare," "Staring At The Sun" and "Big Bounce."
An avid sportsman, Brooks' hobbies include surfing, snowboarding, skiing and cycling. 
RYAN DOOM (Bryce) – Born in Phoenix, Arizona, Ryan Doom's family moved East, settling in Spring, Texas when he was only eight years-old.  Ryan attended Klein High School, famed for nurturing rising stars such as Matt Bomer, Lee Pace and Lynn Collins. His passion for fine arts led him to achieve an art scholarship to Texas Christian University. While at TCU, Ryan's interest in film blossomed and he began making frequent trips to Dallas to attend acting classes. Upon graduating, Ryan moved to New York to take up modeling while simultaneously honing his acting skills. In 2005, Ryan made the jump to Los Angeles where he immediately found work, appearing in an international commercial with Drew Barrymore as well as in many bpopular TV shows such as "CSI: Miami," "Castle" and "90210." In 2010, Ryan landed the recurring role of "Wyatt" on Greg Garcia's hit comedy, "Raising Hope" for Fox and recently landed a role in Oscar® nominated writer/director Ron Shelton's TV pilot for TBS, "Hound Dogs." Ryan currently resides in Los Angeles. 
FRANCES FISHER (Mrs. Von Hoffman) – Born in Milford On-Sea, England, Frances Fisher's itinerant childhood in the UK, Columbia, Canada, France, Brazil, Turkey, Italy, Iowa and Texas undoubtedly provided fodder for her thespian career. After graduating from high school in Orange, Texas, Frances cut her teeth acting on Tennessee Williams and Robert Bolt in Orange Community Theater. She also apprenticed at the Barter Theatre in Virginia before moving to New York City where her career quickly blossomed.
Fisher has starred in over 30 theatrical productions including Fool For Love, Desire Under the Elms, Cat on a Hot Tin Roof, Orpheus Descending, A Midsummer Night's Dream, 1984 and Three More Sleepless Nights (Drama League Award). Her latest theatre was at The Taper in The Cherry Orchard with Annette Bening and Alfred Molina, and a two-hander opposite Paul Ben Victor in Sexy Laundry. Recent favorite staged readings have been Eve Ensler's The Vagina Monologues, and the 9/11/11 reading of My Child – Mothers of War, interviews of mothers whose children went to war and didn't come home.
After a successful reading on International Holocaust Remembrance Day 12/26/12 at the Museum of Tolerance of In Their Own Words, (a selected reading of letters written by 1,500 forgotten Holocaust survivors in their 80's and 90's struggling to stay alive in Eastern Europe – read by Valerie Harper, Ed Asner and Fisher), Fisher co-produced with Zane Buzby, (creator of Survivor Mitzvah), a fundraiser/reading at the Museum of Tolerance of In Their Own Words with Valerie Harper, Elliott Gould, Lainie Kazan and Ed Asner.
Fisher just completed a reading of Corktown, directed by Larry Moss at the Signature Theatre in New York City.
Fisher's diverse film career spans cool indies to blockbusters to Academy Award® Winners: "Tough Guys Don't Dance," "Can She Bake A Cherry Pie?," "Babyfever," "Patty Hearst," "Female Perversions," Oscar® winning "Unforgiven," "True Crime," "The Big Tease," "The Rising Place," "Blue Car," "Mrs. Harris," "House of Sand & Fog," "Laws of Attraction," "The Kingdom," "In The Valley Of Elah," "Jolene" (Jessica Chastain's first film), "The Perfect Game," "Golf in the Kingdom" and "The Lincoln Lawyer." Fisher is perhaps best known for her memorable performance as Kate Winslet's mother in "Titanic," which garnered her a Screen Actors Guild nomination for Best Ensemble Cast, while the film went on to receive 11 Academy Awards®.
In addition to her thriving theater and movie career, Fisher has had many notable television roles such as Lucille Ball in "Lucy & Desi: Before the Laughter," Audrey Hepburn's mother in "The Audrey Hepburn Story" (played by Jennifer Love Hewitt), and Jackie O's mother, Janet Bouvier in "Jackie Bouvier Kennedy Onassis" (played by Joanne Whalley), and recurring roles on "Becker," "The Lyons Den," "Titus," "The Shield," "Eureka" and "Torchwood." Other guest spots include "The Mentalist," "ER," "2 and a Half Men," "Sons of Anarchy," "Private Practice," "CSI," and "A Gifted Man." To this day, she is stopped on the street as fans remember her as Deborah Saxon on the beloved soap opera "The Edge of Night," and Suzette Saxon on "The Guiding Light." Those jobs were her bread and butter as a budding actress in NYC while she was doing off-off-Broadway and working out as a member of The Actors Studio. Fisher is also touched that so many people comment on her performance on "Law & Order."
Today, Fisher continues to play screen Mom to some very interesting talent: She was seen in the #1 Box office hit, "The Roommate," playing Leighton Meester's mother; she played Ryan Philippe's mother in Brad Furman's critically acclaimed feature "Lincoln Lawyer," opposite Matthew McConaughey; and she played Alessandro Nivola's mother in David Rosenthal's "Janie Jones," co-starring Abigail Breslin.
Her upcoming films include Travis Fine's "Any Day Now" (not a Mom, but giving heck to Alan Cumming and Garret Dillahunt); "The Silent Thief" (Mom to Scout Taylor-Compton and Cody Longo); Ash Christian's "Franny" (Mom to Annaleigh Ashford and newcomer Jen Ponton); Henry Jaglom's "The M Word" (Mom to Tanna Frederick); "Juke Box Hero" (Mom to Zelda Williams); and "Retribution" (Mom to Cynthia Watros).
Fisher also stars in "Sedona," the motion picture, with Beth Grant, (her co-star in "The Rising Place"), which was in competition at the Hollywood Film Festival 2011 and is soon to be released.  She will also be seen this year on AdultSwim in the British Version of Rob Corddry's comedy "Children's Hospital," playing the Brit version of Megan Mullally's character, The Head.
Recently Fisher wrapped "Pandora's Box," co-starring with Joe Mantegna and Stephenie Meyer's new sci-fi film series titled "The Host," co-starring with Saoirse Ronan and William Hurt, written and directed by Andrew Niccol.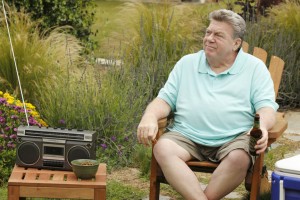 GEORGE WENDT (Mr. Henderson) – Chicago native George Wendt, known universally as "Cheers" barfly Norm, famously got his big break pushing a broom at Second City comedy club. In the years since, he's become synonymous with Chicago comedy, with a resume that includes movies and television. Wendt was born on October 17, 1948, in Chicago, Illinois, graduated from Campion High School in Prairie du Chien, Wisconsin, a Jesuit-run boarding school for boys. He moved on to the University of Notre Dame in South Bend, Indiana, but after two years there, was kicked out with a GPA of 00.0. He made a successful switch to another Jesuit school, Rockhurst College in Kansas City, Missouri, and earned a B.A. in Economics, then took a few years off, traveling through Europe and North Africa, eventually coming back home to Chicago, his roots.
After watching the talented comedians in "The Second City," Wendt asked to join, and was told to be there at 11:30 the next morning. When he showed up at the improvisational comedy troupe that morning, he was handed a broom, and told, "Welcome to the theater, Kid." Wendt persevered, and eventually joined the performing end of the company, from 1974 to 1980, and met his wife, Bernadette Birkett, who was also a performer. He was in a pilot for NBC, "Nothing But Comedy," and this was his ticket to Hollywood.
Wendt's first movie role was in the film "My Bodyguard," starring Matt Dillon and Chris Makepeace. After a few other minor roles in movies, as well as television shows such as "Soap," "Taxi" and "Alice," he appeared in "M*A*S*H" as a Marine with a pool ball stuck in his mouth, being helped by David Ogden Stiers' character. After appearances in the films "Airplane II: The Sequel" and "Jekyll and Hyde…Together Again," Wendt got his first big break since he started pushing the broom.
Auditioning for the role of constant bar patron and accountant Norm Peterson on the sitcom "Cheers," Wendt beat out future fellow regular, John Ratzenberger. The character became so successful and iconic, that he became known for his entrances into the bar with a greeting of, "Norm!" followed by one of his famous one-line quips. Birkett played the voice of Norm's wife, Vera, heard on the phone, but never seen. The series ran from 1982 to 1993, and by the time the last show aired, only Wendt, Ted Danson, and Rhea Perlman, had appeared in every one of the 273 episodes.
Wendt also brought his famous character to five other shows, "Cheers" spin-offs "Frasier" and "The Tortellis," "The Simpsons," "St. Elsewhere" and "Wings." He and Ratzenberger settled out of court on a lawsuit with airport lounges that were using the "Cheers" bar design with animatronic patrons that resembled Norm and Ratzenberger's character, Cliff Clavin.
Finding yet another iconic character on "Saturday Night Live," Chicago native Wendt, joined series regulars, Chris Farley, Mike Myers and Robert Smigel, in creating the Superfans, sports fans dedicated to Chicago sports teams, specifically the Bears, but the Bulls as well. They would draw on Chicago accents, food choices such as beer and sausage, and make outlandish claims for victory. Wendt also hosted "Saturday Night Live" once, sharing the job with legendary director Francis Ford Coppola.
Other than the characters of Norm and the Superfan, Wendt has kept busy with a number of different opportunities. He has appeared in the feature films "Fletch" along with Chevy Chase, and in "Gung Ho" with Michael Keaton. He has had several guest starring roles in television shows including "Spin City" and "Tales From the Crypt." In 1995, he starred in his own show, "The George Wendt Show," but it was ill-fated and didn't last. He went on to a recurring role on "Sabrina," "The Teenage Witch," and hosted a reality show, "House of Dreams."
In May 2006, Wendt was seen yet again on television. He made several appearances on "Late Night with Conan O'Brien" where he performed short skits.  He starred in a 2006 episode of "Masters of Horror" entitled "Family," directed by John Landis and played Santa Claus in the ABC Family original movie "Santa Baby." Wendt performed alongside Richard Thomas in Twelve Angry Men in October 2006 in the Eisenhower Theater in Washington, D.C. Wendt was interviewed by local movie critic Arch Campbell where he was asked, "What should people do when they see you around town?" After hesitating for a moment, Wendt held his thumbs up and replied, "If their impulse is to buy me a beer, then by all means, follow that impulse." In spring 2007, Wendt performed in 12 Angry Men in Los Angeles. Wendt appeared as an
American GI in the 2007 Christmas Special episode of British sitcom "The Green Green Grass."
Most recently, Wendt starred on Broadway in Hairspray playing the character of Edna Turnblad and also had an eight week run playing Santa Claus in the musical ELF.