This Magic Moment
CAST:
Diane Neal Travis Schuldt Vincent Spano Charles Shaughnessy
Clark has always dreamed of moving away to Hollywood to become a famous screenwriter, so when a big Hollywood movie begins filming in his quaint hometown, he is beyond thrilled. Clark sneaks his way onto the movie set and quickly finds himself face to face with the movie's big time star, Helena Harris. The two form a quick bond, with Helena even offering to help him get his script made into a movie if he moves to Los Angeles. It seems as if Clark's dreams are falling into place. But Clark's blossoming romance with Helena is complicated by the return of Emily, his high-school sweetheart and one true love. As filming comes to an end, Clark must look into his heart and choose whether to follow Helena to Hollywood or remain with Emily in the town he has always tried to escape.
CAST BIOS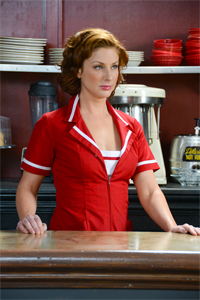 DIANE NEAL (Helen Harris)
– Diane Neal is best known for her role on "Law and Order: SVU." She first appeared on the show in 2001, as a murderous villain, in one of her very first acting jobs. Diane then reappeared, in classic "Law and Order" style, as the justice-driven ADA Casey Novak from 2003-2012. Since 2009 she has also recurred as Gibbs' doppelganger, CGIS Special Agent Abigail Borin, on "NCIS," and for two seasons as Alison Holt on "SUITS." Diane has happily guest starred on a wide variety of other hit shows from "White Collar" to "30 Rock" and appeared in numerous films and TV movies. With over a decade of playing tough-as-nails good guys and bad guys, it comes as a surprise to many fans that Diane is a stand-up comic. Although difficult to book consistently while filming, for years Diane has made audiences laugh all over NYC and LA. She can routinely be seen at Stand Up New York, her home club, and Upright Citizen's Brigade LA. She also enjoys appearing in the hip and hysterical storytelling show "Don't Tell My Mother" produced by Nikki Levy. Diane was born in Alexandria, VA, moved to Littleton, Colorado at age 8, then to Oahu, Hawaii for college another 8 years later. Thanks to her older sister, and getting tall, she started modeling and was fortunate enough to live and work in myriad countries in Asia and Europe. Diane landed in NYC, the city she still calls home, and serendipitously found herself at the Atlantic Theater Company Acting School in 1999. On day one of classes she wrote in her journal, "I cannot believe people get paid to do this!" Diane loves acting and still cannot believe that she gets paid to do it. A life-long learner, Diane is very proud to currently be an undergraduate student at Harvard University. Her areas of interest include everything from Classical Archaeology to Neuroscience and Biology. Previous to Harvard, Diane has taken classes as wide-ranging as "Predators of the Outback" handling dangerous wildlife in Australia at Uluru and the often handy "Coconut Opening 101" in the Caribbean. Diane whole-heartedly believes in philanthropy and is on the artistic board and a full participant in the Urban Arts Partnership under the tutelage of fellow actor Rosie Perez as well as actively working with the Thirst Project, the RFK Center for Human Rights, Water Keeper and the Metropolitan Museum of Art, to name a few. Against all logic and advice, Diane enjoys jumping out of planes and off of buildings and is always looking for her next adventure. Diane is a nerd and has been, and always will be, a Star Wars freak.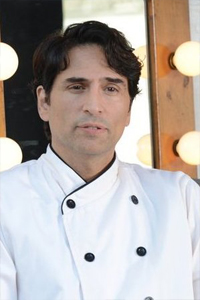 VINCENT SPANO (Roberto Martinez)
– An actor of striking intensity, Vincent Spano's work displays his versatility as both a comedic and dramatic talent. His aggressive approach to his craft and proven ability have consistently delivered memorable performances. Although he's performed in numerous mainstream studio films, he's never ceased in his support of the independent film industry, which is evident in the many substantial independents he's appeared in. Spano was born in New York City, and first achieved Broadway success at age 14. While attending Stuyvesant High School, he was awarded the part of Steve, a dying man's son, in the Long Wharf theater production of "The Shadow Box." He moved with the play to Broadway where it won the 1977 Pulitzer Prize as well as two Tony Awards for Best Play and Best Director. He acted in his first two feature films in 1978 at the age of 15, including Jonathan Kaplan's "Over the Edge." At 18, Spano was cast in "The Black Stallion Returns," and was welcomed into Francis Coppola's Zoetrope family (Francis was Executive Producer on the film). In less than one calendar year, Spano put "Stallion," John Sayles "Baby It's You" and Coppola's "Rumblefish" in the can. Vincent had recurring on "Law and Order SVU" for NBC. Vincent also starred in "The Engagement Ring" for TNT opposite Patricia Heaton. Recently he starred in "The Jenifer Estess Story" with Laura San Giacomo, Annabella Sciorra, and Marisa Tomei, "Texas Rangers" with Dylan McDermott, the angelic-lore thriller "Prophecy III: The Ascent," with Christopher Walken, "A Brooklyn State of Mind" with Danny Aiello, "The Unknown Cyclist" with Danny Nucci and Lea Thompson, and on TV in the undercover-cop, NBC drama series, "Prince Street." Other work includes Wesley Strick's "The Tie That Binds," Frank Marshall's "Alive," Mike Binder's "Indian Summer," and "Oscar" with Sylvester Stallone. Spano received critical acclaim for his role in HBO's "Afterburn," also starring Laura Dern. Spano also starred in "City of Hope," his second collaboration with writer/director John Sayles. From the film's debut screening at the 1991 Sundance Film Festival, the Hollywood Reporter reviewed Spano's performance as "electric". Vincent's other film roles include Amos Poe's "Alphabet City," Andre Konchalovsky's "Maria's Lovers," "Creator" with Peter O'Toole and "Good Morning Babylon" directed by the acclaimed Tavianni Brothers. For his role in Showtime's "Blood Ties," Spano was nominated for the Ace Award for Best Actor. For the most current news on Vincent, visit the following web site put together by a fan: http://home.hiwaay.net/~keiper/spano.htm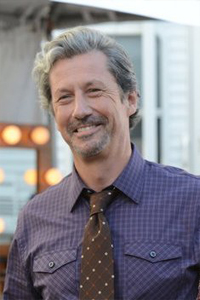 CHARLES SHAUGHNESSY (Doyle Duncan)
– Charles Shaughnessy, born and raised in London, England, came from a show business family. His father was the principal writer and script editor on "Upstairs, Downstairs" and his mother was an actress. He started acting in school plays while in grade school but, after graduating from Eton College, got his BA in Law at the Magdalene College of Cambridge University. "Despite a lifelong love of the theater, I thought it was about time someone in my family did something sensible," he said. While at Cambridge he joined the famous "Footlights Revue" comedy group. Upon graduation, Shaughnessy returned to his first love, acting, and enrolled in drama school in London. After a year touring in repertory, he was cast in the Agatha Christie television series "Partners in Crime." He then won the lead role in the BBC drama series "Jury." Romance brought the actor to America and he moved to Hollywood to marry Susan Fallender, an actress he had met in drama school. Shaughnessy first covered the Los Angeles Theatre scene, appearing at The Mark Taper Forum, the LAAT, and the Ahmanson opposite the late Alan Bates in "A Patriot for Me". He was then cast in the role of Shane Donovan in the daytime series "Days of Our Lives." He stayed with the series for eight years and won three Soap Opera Digest Awards. He later starred in the successful CBS show "The Nanny" opposite Fran Drescher. After a six year run on "The Nanny" he has since appeared in a number of feature films including "Denial" with Jason Alexander and Patrick Dempsey, "Second Chances," "The Painting" ,"Kids in America", and "Audrey." On TV he has starred in many movies such as "A Kiss So Deadly" with Charlotte Ross, "Dayo" with Elijah Wood and for Disney, "Moms Got A Date With A Vampire" with Caroline Rhea and "Get A Clue" with Lindsay Lohan and "Everything to Gain" with Sean Young (which he shot in Montreal, his family's ancestral home and of which he recently inherited the title: Lord Shaughnessy! ) Many will have recently enjoyed his recurring role of St. John Powell in the multi-award winning series: "Mad Men." He will next be seen opposite Lindsay Lohan again in Lifetime's "LIZ & DICK." In the world of Voice Over, Charles has contributed his work to standards like "Rugrats," " The Wild Thornberries," "Duckman," and " Johnny Bravo." He was the voice of Pietro in "The Tales of Despereux" and recently worked on the soon-to-be-released: "Your Highness." For the past five years you could also hear him most evenings as the voice of Land Rover. Charles' many stage appearances include the Triple Tony Award winning Broadway musical "Urinetown," Pasadena Playhouse's acclaimed production of "Orson's Shadow" as well as favorites like "Camelot", "My Fair Lady," and "Spamalot!" Finally Charles was able to make use of his very expensive education by being a runner-up in the Celebrity Jeopardy: Round of Champions, winning $100,000 for "1736: A Family Crisis Center." Grateful for all that his career has given him, Charles spends a lot of time bringing the life-tools of Improvisation to Youth at Risk groups. Recently he was honored to be elected to the Advisory Board at The Robert F. Kennedy Children's Action Corps in Massachusetts. Charles lives in Los Angeles with his beautiful wife, Susan and his two girls, Jenny and Maddy, who make this whole adventure worthwhile.