Mr. Fiction
CAST:
Leah Renee
Kristopher Turner
Ryan Bittle
Stefanie Powers
John Schneider
Emma (Leah Renee), the owner of an enchanting little bookstore, has been dreaming about finding her real life Prince Charming since she was a child. Now, her younger sister, Jane (Cherilyn Wilson), is getting married, but Jane's low key idea of a wedding is not what the romantic Emma had in mind for her little sister. To make matters worse, Frank (John Schneider), the bookstore's investor, has assigned his headstrong son, Eric (Kristopher Turner) to shadow Emma. As Emma and Eric butt heads over how the store should be run, Emma suddenly meets Landon (Ryan Bittle), who seems to be her ideal Prince Charming. Not amused by Landon's mushy gestures, Eric bets Emma that she will lose interest in Landon after one month. Emma eagerly accepts his challenge, but soon starts to see that he may have a point about Landon and that under his gruff exterior there is more to Eric than she thought.
CAST BIOS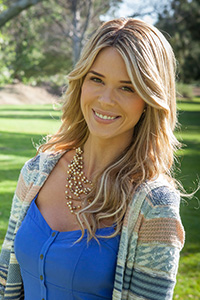 LEAH RENEE (Emma) – Leah Renee currently stars as the lead in the PixL original television movie "Mr. Fiction." Leah has had a varied career that includes roles in several television series including "Satisfaction," "The Playboy Club," and "Degrassi: The Next Generation." She's also starred in the feature films "The Best Thanksgiving Ever" and "Stag," as well as lent her voice to animated series such as "Franklin the Turtle."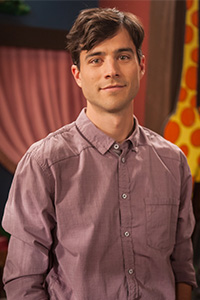 KRISTOPHER TURNER (Eric) – Kristopher Turner is currently has a lead role in the PixL movie, "Mr. Fiction." He also starred in the independent romantic comedy "Wingman, Inc."
Kristopher recently wrapped Season 2 as a series regular on the NBC/CTV series "Saving Hope" and recurred on the CW series "The LA Complex." He also received a Gemini nomination for his guest role on the mini-series "Bloodletting and Miraculous Cures." Prior to that Kristopher was a lead on the hit CTV series "Instant Star" for four seasons.
His film and MOW credits include starring roles in: "A Little Bit Zombie," "Without A Paddle: Nature's Calling," the improvised feature "A Wake," "Old Fashioned Thanksgiving," "Old Fashioned Christmas" for the Hallmark Channel, "In God's Country," and "Me and Luke," for which Kristopher was nominated for a Gemini as a leading actor.
On stage Kristopher has performed in the North American premiere of the play "That Face" with Sonja Smits, as well as "In Gabriel's Kitchen," "This is Our Youth," "Master Harold and the Boys," and received a Dora Nomination for his role in "Two Weeks, Twice a Year" at LKTYP. Kristopher was born and raised in Winnipeg, Canada.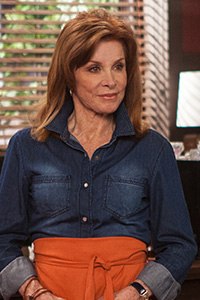 STEFANIE POWERS (Marylin) – Stefanie Powers began her career at age 15, dancing for famed Broadway choreographer, Jerome Robbins. She was put under contract to Columbia Pictures in the final years of the Hollywood star system. While under contract, she appeared in 15 of the 31 motion pictures she has made, co-starring with screen legends such as John Wayne, Maureen O'Hara, Lana Turner, Ava Gardner, Cliff Robertson, Elliot Gould, Roger Moore, Donald Sutherland, Bing Crosby, Glenn Ford, Lee Remick, James Caan and Sammy Davis. She recently co-starred with Richard Chamberlin in the critically acclaimed independent film "Three Days of Hamlet."
Her first television series, "The Girl from U.N.C.L.E.," marked a milestone in U.S. television's history as the first hour long series featuring a female in the leading role. Her television career includes over 25 mini-series, over 200 episodic guest starring appearances, 35 movies for television and two more television series, "Feather and Father" and the long running "Hart to Hart," starring opposite Robert Wagner.
She became a member of the Screen Writers' Guild of America in the 1980s and has produced several of the screenplays she has written, one of which, "Family Secrets," was not only a stepping stone for the careers of James Spader and Gary Sinise but it garnered her a nomination for the best screenplay of the year by her peers in the Writers' Guild. Her writing has extended itself to a memoir called, One From The Hart, published by The Robson Press.
Throughout her career she has never neglected her theatrical roots, appearing in productions of "How the other Half Loves," "Under the Yum Yum Tree," "Sabrina Faire," "View from the Bridge," "Oliver," "Annie Get Your Gun," the West End debut of "Matador", off-Broadway in "The Vagina Monologues," back to the West End with Robert Wagner in "Love Letters," with which they also toured the United States, becoming the cast most associated with the play after over 500 performances.
She once again appeared in the UK in the West End production of "The King and I," which also toured the United States for ten months. As a result of the successful remounting of the musical "Sunset Boulevard" at the Ogunquit Theatre, a US revival is being planned. She appeared once again in the UK in 2012 co-starring opposite Richard Johnson of Royal Shakespeare Company fame, in the play, "On Golden Pond." She has recorded a CD with the legendary jazz artist Page Cavanaugh called On the Same Page, available online at Jambomusic.com. Also in 2012 she performed her one woman show, "Hart of my Heart," a tribute to the life and the lyrics of Lorenz Hart at the newly opened Matcham Room at the Hippodrome.
As much a part of her life as her career, is her devotion to animal preservation and protection, which at times becomes more of a vocation than an avocation. She is founder and president of the William Holden Wildlife Foundation, established in 1982 to continue and to further her long-time partner's conservation work in East Africa after his death.
She was appointed conservation consultant to Jaguar and Land Rover after creating the Jaguar Conservation Trust which she has operated in Central America. She has been on the advisory board of four zoos in the United States and is a fellow of the Los Angeles Zoo, the Explorers' Club, and the Royal Geographic Society. She is active in the movement to preserve and protect the remaining herds of the North American wild horses and has received numerous international awards for her grass roots work in conservation which she considers a life-long commitment. She resides part of the year in Kenya.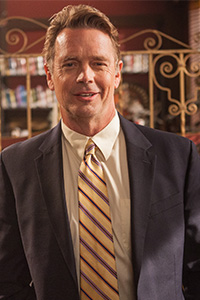 JOHN SCHNEIDER (Frank) – John Richard Schneider III (born April 8, 1960) is an American actor, singer, writer, and director. He is known for his portrayals of Bo Duke in the 1980s American television series "The Dukes of Hazzard," and as Jonathan Kent on "Smallville," a 2001 television adaptation of "Superman."
John, who has appeared in many feature films, has just finished directing the movie titled, "Smothered," which he also wrote. "Smothered," filmed at the John Schneider Studio in Holden, LA is due for release this Fall.
Along with the television and films, John has also starred on Broadway as the lead in "Grand Hotel" and "Chicago."
John is also well known as a country music singer, releasing nine studio albums and a greatest hits package, as well as eighteen singles, and a Christmas Album. This total includes four number one singles, "I've Been Around Enough to Know", "Country Girls", "What's a Memory Like You (Doing in a Love Like This)" and "You're the Last Thing I Needed Tonight."
John has also been 'the voice' for several commercials including Home Depot. He has also been the voice of Preston Stormer in the "HERO Factory" TV series for several seasons.
On the personal side, in 1982, John co-founded the Children's Miracle Network Hospitals working to save the lives of kids in your community. CMNH is affiliated with 170 children's hospitals throughout the US and Canada, and has raised 4.9 billion dollars, making it the largest children's charity in the world. John has been, and still is, the spokesperson for CMNH.
Currently John is starring in the hit television series for OWN titled, "The Haves and The Have Nots", written and directed by Tyler Perry and airing on Tuesday nights.