Touched
CAST:
Doris Roberts
Rachael Carpani
Sam Page
Ernie Hudson
Acclaimed author and recluse Norma Boswell is reaching the end of her days. Norma (Doris Roberts) and her doctor are the only two that know of her terminal diagnosis. She has kept it a secret from her housekeeper and gardener with whom she shares her estate, as well as her estranged son, Justin (Sam Page). Doctor Beck (Ernie Hudson) insists it's time to bring in a live-in nurse as her health declines. Prideful and stubborn, Norma immediately dismisses each candidate until she encounters Emma Keating (Rachael Carpani), who refuses to take no for an answer. Norma relents and allows Emma to stay under the condition that she maintains Norma's secret. The strong-willed women bump heads but they come to develop a respect for one another and eventually even affection. When Justin returns briefly from traveling abroad Emma discovers the root of his estrangement with his mother. In an attempt to repair their relationship Emma reveals Norma's secret to Justin. While he and her staff are upset at being kept in the dark, what they're truly feeling is heartbreak. As acceptance dawns, all embrace just how much they need each other.
CAST BIOS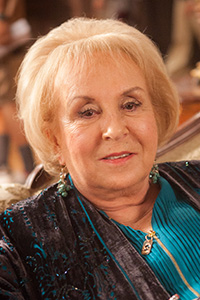 DORIS ROBERTS (Norma) – After nine years as Marie Barone on "Everybody Loves Raymond," which brought her international accolades as the most popular comedic actress in television, Doris Roberts returned to features as the star of two comedies and a huge horror/adventure blockbuster for Twentieth Century-Fox, another for Miramax and then two heavy dramas for Hallmark, as well as a special role on "Law & Order: Criminal Intent" written especially for her. Then, in her spare time, she agreed to reunite with famed playwright Terrence McNally, for whom she starred in the Outer Critics Circle Award-winning "Bad Habits" on Broadway, in a new play, "Unusual Acts of Devotion," in a special pre-Broadway engagement at the famed La Jolla Playhouse in California.
Roberts, who boasts four Emmy's for "Raymond" alone and a fifth for a dramatic portrayal as a victim of homelessness on "St. Elsewhere," continued her long career of diverse performances by co-starring as Ashley Tisdale's grandmother in Twentieth Century-Fox's highly touted, "Aliens in the Attic." And just as that picture was going into release, she signed on for the title role in The Hallmark Channel tearjerker "Mrs. Miracle," based on the best-selling Debbie Macomber book. When that show broke Hallmark's ratings records, the network immediately called for a sequel and "Call Me Mrs. Miracle" was born. Simultaneously, she co-starred with Ernest Borgnine, Anne Meara, and Piper Laurie in the independent feature, "Another Harvest Moon," which won plaudits everywhere it has been shown. Earlier she jumped into the title role of the Fox youth-market comedy "Grandma's Boy," then was snatched by Miramax to star opposite Garry Marshall in "Keeping Up With the Steins." In 2011, Doris lent her voice to Disney's animated TV movie "Phineas & Ferb: Across the 2nd Dimension."
In between, Roberts won critical acclaim as a wealthy New York society matron whose family goes after her fortune in the "Law & Order: Criminal Intent" episode, "Privilege" for NBC, and another wealthy homeowner who takes in a group of homeless in the Hallmark Channel drama "Our House." "Now, I'm having a great time playing a diverse set of characters that have been offered for films and television that couldn't be done during the heavy 'Raymond' schedule," she reports happily. In addition to guest roles on "Desperate Housewives," "Grey's Anatomy," "Major Crimes," "Melissa & Joey," and several spots on "The Middle," she completed the feature "Madea's Witness Protection" for Tyler Perry in time to star with her friend Betty White in a role on "Hot in Cleveland," where they end up in fisticuffs! She then went on to appear as the beloved Grandma in "The Little Rascals Save the Day" and completed a very touching performance in the aptly-named film, "Touched."
Roberts, whose pre-"Raymond" series and specials on television, countless features and 30 years on Broadway have made her one of the most beloved performers in entertainment, is no awards newcomer. In addition to the five Emmy's and eleven Emmy nominations, her artistry has been recognized three times as Best Television Actress by the national Viewers for Quality Television. Then, in 2001 alone, she was selected by the prestigious American Film Institute as one of five actresses of the year, won the 2001 TV Guide Award, the 2000 Beautiful People Award and was named Best Actress in A Comedy in the American Comedy and Los Angeles Weekly Awards for her stage performance in "24 Hours." To celebrate a lifetime of such achievement, on March l0, 2003, the versatile actress was immortalized with her own Star on both the Hollywood Walk of Fame and the Bronx Walk celebrating the borough's residents who have achieved international recognition. When she spent several weeks shooting "Aliens" in Australia, she so won the hearts of fans down under she was once again immortalized in cement as well. Then, in April of that year, St. Martin's Press published her memoirs, "Are You Hungry, Dear?" which became an immediate best seller. In 2011 she was honored with the prestigious Ellis Island Medal of Honor by the National Ethnic Coalition of Organizations in a full weekend of celebrations honoring a wide variety of achievers who represent their contribution to the American culture.
A native of the Bronx borough of New York City, Doris knew she would become a professional actress when she made her debut at the age of six, portraying a potato in a school play. When her first line got big laughs, she liked it and decided to pursue the limelight by entering the popular Hearn's Amateur Hour radio talent contest. Singing "Winter Wonderland" with a lisp, she got the gong, the bell, the whistle and finally the hook, rejection that might have disillusioned other youngsters, but only spurred her on to learn her craft. Supported in her theatrical ambitions by her mother, she was taken as a young girl to Broadway matinees, where she stood in back of the theater, carefully studying the performers she saw and dreaming to become one of them. That dream came true in l955, when Doris debuted on Broadway in William Saroyan's classic "The Time of Your Life." The following year she was asked to understudy one of the great ladies of the American stage, Shirley Booth, in "Desk Set."
Even with such impressive recognition of her innate acting abilities, she decided she needed professional training and joined the famed Actors Studio, where her peer students were also to become illustrious performers, among them Marilyn Monroe, Kim Stanley and Maureen Stapleton.
The New York theatre continued to beckon the young actress, who subsequently appeared both on and off Broadway in numerous successful productions, including "It's Only a Play," "Desk Set," "The American Dream," "The Death of Bessie Smith," "The Office," "Marathon 33," "The Color of Darkness," "The Secret Affairs of Mildred Wild," "The Natural Look," "Last of the Red Hot Lovers," "Cheaters," and "Bad Habits," for which she won the Outer Critics Circle Award. More recently, Doris appeared on stage with Brooke Shields and Anna Chlumsky in Delia and Nora Ephron's "Love, Loss, and What I Wore."
Lily Tomlin coaxed Doris away from Broadway to join her comedy series, "The Lily Tomlin Comedy Hour," initiating a new and thriving career in television. Doris became one of the medium's most successful stars as a series regular on "Angie," "The Boys," "Ladies on Sweet Street," "Remington Steele," "Maggie," "The Mary Tyler Moore Comedy Hour" and, of course, for nine successful seasons on "Everybody Loves Raymond." Coincidentally, Doris also managed to fit in scores of guest starring roles, including "Rhoda," "Amazing Grace," "Walker, Texas Ranger," "Step By step," "Dream On," "Burke's Law," "Baretta," "St. Elsewhere," "Empty Nest," "John Larroquette," "Perfect Strangers," "Barney Miller," "Mary Hartman, Mary Hartman," "Soap," "Full House" and "Murder She Wrote." Producers of movies for television were quick to take advantage of the actress' popularity and wooed her for key roles in "A Thousand Men and a Baby," "A Time To Heal," "Blind Faith," "Sunset Gang," "A Mom For Christmas," "The Fig Tree," "The Diary of Anne Frank," "It Happened One Christmas," "Ruby and Oswald," "The Story Teller," "A Letter to Three Wives," "Jennifer, A Woman's Story," "Ordinary Hero," "One True Love" and "Sons of Mistletoe."
Moving onto the big screen, Doris drew even more accolades for such films as "A Fish in the Bathtub," "My Giant," "Walking to Waldheim," "The Grass Harp," "Used People," "National Lampoon's Christmas Vacation," "The Night We Never Met," "Something Wild," "Barefoot In the Park," "No Way to Treat a Lady," "A Lovely Way to Die," "Honeymoon Killers," "A New Leaf," "Such Good Friends," "Little Murders," "Heartbreak Kid," "Hester Street," "The Taking of Pelham One Two Three," "The Rose," "Good Luck Miss Wyckoff," "Rabbit Test," "Simple Justice," "Number One With A Bullet," and "Momma Mia," among others.
While most performers might rest on their laurels, Doris Roberts continued to shine in her craft. With a hefty weekly schedule on "Everybody Loves Raymond," she also managed to star in two movies for television, racking up rave reviews for a dramatic role as a woman approaching Alzheimer's disease in "A Time To Remember" for The Hallmark Channel and "Raising Waylon" for CBS. In between, she even managed to have some fun with her love for games, appearing as a regular with her friend Whoopi Goldberg on "Hollywood Squares" and accepting a very special role written for her on the popular "Touched By an Angel."
Doris also manages to devote what free time she has to community service as a Founder and active supporter of the charities Children Affected By AIDS and Puppies Behind Bars. For nine years in a row she has turned host/producer to create "A Night of Comedy," gathering the top comedy stars to raise millions of dollars for Children Affected By AIDS. With Puppies Behind Bars, she has helped to create a new sense of humanity for prison inmates by providing them with pets and a sense of normal responsibility. She received a special Award of Recognition as the first Chair of Southland Theatre Artists Goodwill Event, (S.T.A.G.E.) the longest continuing fundraising event for AIDS, at the 2008 24th anniversary of the all-star entertainment charity.
Roberts is also a formidable fighter for the rights of fellow actors in the continuing battle against ageism. In mid-2002 she made international headlines when she testified before U.S. Senator John Breaux's Special Committee on Ageism in Washington, D. C. The spirited actress was quoted throughout the international electronic and print media when she observed that the bulk of the Senators to whom she was addressing were in their mid sixties or over and said, "Gentlemen, if you were in my business you would be out of a job" then admitted, "I'm 71 and I'm still kicking." And is she ever. Even with her incredible schedule, she happily responded to the U.S. Department of State, becoming a Cultural Ambassador and traveling to underdeveloped countries throughout the world to speak to you about hope, for which she was honored in late 2004 by Secretary of State Colin Powell in ceremonies in Washington, D. C. When, in 2005, the University of South Carolina announced she was to be presented with an Honorary Doctorate, her granddaughter, Kelsey, commented, "It's just not fair, I have to go through four years of college and then another four years of graduate school to get my degree; you just have to get on a plane and go to South Carolina." "But," replied the venerable actress, "I had to spend 50 years of hard work to get mine."
Some may call this indefatigable worker an actress who has done it all, but Doris insists, "There's always a new challenge around the corner and I'll be ready when it comes."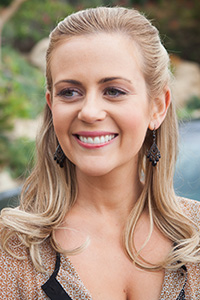 RACHAEL CARPANI (Emma) – A native Australian, Rachael studied acting at Macquarie University and is probably best known "Down Under" for her role as Jodi Fountain on the series "McLeod's Daughters," for which she was nominated for TV WEEK's Logie Awards for both a Silver Logie – Most Popular Actress and the Gold Logie – Most Popular Personality On Television. Rachael also appeared in the feature films "Hating Alison Ashley" and the British film "Triangle," starring Melissa George and Liam Hemsworth.
Stateside, Rachael established herself on network television with the CBS pilot "Law Dogs" and a lead role in the CBS series "Cane," in addition to numerous prominent guest starring roles, including roles in "N.C.I.S.: Los Angeles," "True Blue," and a strong recurring role in the A&E series "The Glades."
Rachael most recently appeared in Lifetime's series "Against The Wall," in which she played the series lead role of Abby Kowalski, a hard-hitting Internal Affairs detective for the Chicago Police Dept.
Rachael studied ballet for 10 years and is an avid surfer and horserider. She is represented by Lisa Mann in Australia and McKeon Myones Entertainment in the U.S.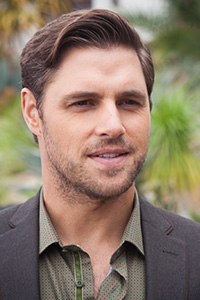 SAM PAGE (Justin) – Sam Page had the distinction of simultaneously juggling three recurring arcs on such beloved series as AMC's Golden Globe and Emmy Award-winning "Mad Men," the Worldwide phenomenon "Desperate Housewives," and acclaimed ABC Family Channel series "Greek." As his role as Christina Hendrick's surgeon husband on "Mad Men" continued, Page joined yet another cast in the form of an arc on "Gossip Girl," and has since appeared in multiple episodes of "Switched at Birth." Additionally, he's appeared on "Up All Night," "The Event," "Castle," and "Lie to Me." Page previously starred as a handsome District Attorney with a heart of gold on the new CBS drama "Shark." Aside from portraying an attorney with morals on a weekly basis, further testament to his acting ability was being able to hold his own alongside co-star James Woods.
He has since starred in the Spike TV original telefilm "Red Line," followed by the independent drama features "Falling Up," "Answers to Nothing," and most recently, "In the Dark."
Whether swimming with sharks or maneuvering throughout the supernatural events on the short-lived, yet critically-acclaimed "Point Pleasant," Page continued to impress in a variety of roles. Additional credits include recurring arcs on the likes of "America Dreams," "Seventh Heaven," and Ryan Murphy's scathing look into the high school experience, "Popular."
Page's popularity likely originates from his role on the daytime drama "All My Children" which garnered him a slot amongst People Magazine's "Most Eligible Bachelors." Born in Milwaukee, Page earned himself a B.A. degree in ecology and evolutionary biology from prestigious Princeton University where he also played baseball. Upon graduation, he moved to Manhattan to focus on his acting career. He eventually moved west to Los Angeles where he currently resides.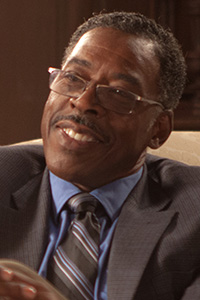 ERNIE HUDSON (Dr. Beck) – There are very few actors who can lay claim to a professional resume as long and varied as Ernie Hudson, but Hudson has always been a unique screen presence, capable of taking on any role.
Born in Benton Harbor, Michigan, and raised by his grandmother in a tough neighborhood, a career as a performer seemed an unlikely path for young Ernie Hudson, who was already married with a young son when he enrolled at Wayne State University as a Speech and English major. "Being an actor never occurred to me," Hudson recalls. "There was no one even remotely connected to the industry where I was from. It wasn't until I got to college that I realized how much I enjoyed it."
Hudson's early ambition was to be a writer, and he for a time served as the resident playwright at Detroit's Concept East, the oldest black theater company in the country. Later, he founded Actors Ensemble Theater, where he and other black performers staged and appeared in their own original works. After attending Wayne State, Hudson accepted a full scholarship to the prestigious Master of Fine Arts Program at Yale University as a writer and acting student. This led to a number of regional theater roles and critical acclaim, and his feature film debut in "Leadbelly."
"The thing that altered my life the most was when my first marriage ended and my two young sons came to live with me," Hudson remembers. His wife wanted to pursue her education, and it made sense for Hudson to bring the kids to California. At the time, Ernie, Jr. and Rahaman were 10 and 7 years old. "Thankfully, their mother taught them how to cook and clean and they were very self-sufficient," Hudson jokes. "I sent them away one summer and the house fell apart." Being a full-time dad to his kids enriched Hudson in unexpected ways: "They did as much raising me as I did them," he explains. "I grew up without having a father, and I wasn't really sure what that role was. They helped me find it."
As a single father, Hudson quickly realized that earning a living as an actor was now a necessity, not just a dream. There were parts in feature films like "The Main Event" with Barbra Streisand, "The Jazz Singer" with Neil Diamond, and television projects like Abby Mann's acclaimed miniseries "King" and the highly-rated "Roots II." Hudson found himself alternating between film and television roles until 1983, when he was cast as Winston Zeddemore, the fourth member of the "Ghostbusters" team. The two "Ghostbusters" films gave Hudson a higher profile than he had ever known. He continued to work at a steady pace and began to get recognized on the street. "After doing so many different kinds of movies, I've found that the people who recognize me come from all walks of life, and everyone knows me from a completely different role."
Hudson subsequently earned starring roles in films such as "Weeds" with Nick Nolte and "The Basketball Diaries" with Leonardo DiCaprio. When director Curtis Hanson ("L.A. Confidential") was making "The Hand that Rocks the Cradle," he cast Hudson in the pivotal role of Solomon. "After 'Ghostbusters,' a lot of people thought that I was a comedian, but doing more comedies wasn't my goal," says Hudson. "Doing 'The Hand that Rocks the Cradle' reminded me of the fun I could have while exploring different facets of acting. I loved making that movie, and it also allowed me to re-establish myself as a dramatic actor." Another favorite role of Hudson's was in the thriller "Congo." "I never really envisioned myself as a leading man. The character in 'Congo' was my Ronald Colman character, the man who ran the show. After I saw my performance in that movie, I felt really good about what I was capable of achieving and what I had to offer as an actor."
Hudson also singles out his role of Officer Albrecht in the 1994 thriller "The Crow" opposite the late Brandon Lee. Although Lee's death, a result of an on-set accident, is still a painful memory, Hudson remains proud of the movie. "I'm so glad we got to finish it because it really shows Brandon's enormous talent," he says. Hudson admits that two of his heroes growing up were Muhammad Ali and Bruce Lee, and he remembers conversations with Brandon in which the young star said he hoped "The Crow" would establish his career apart from his father's legacy.
In 2003, Hudson appeared in Pulitzer Prize winning playwright August Wilson's "King Hedley II," at the Penumbra Theatre in Minneapolis, Minnesota. Early in his career, Hudson made a splash starring in the Minneapolis production of "The Great White Hope." Returning to Minneapolis to star in "Hedley" during the renowned Penumbra's 25th season has led to accolades for Hudson, with local reviewers noting the "slick panache" and "butter smooth" approach he brings to the role of Elmore, a con artist.
Kudos also followed him to the small screen. For his work on "Oz," where he appeared as Warden Glynn for six seasons, Hudson won the International Press Academy Golden Satellite Award for Best Performance by an Actor in a Drama Series. Another cherished recent role is that of the demanding principal in the Emmy nominated film "The Ron Clark Story" with Matthew Perry – a project Hudson felt compelled to do "because it was a story that needed to be told."
With his four sons grown – all of them enrolled in or graduated from college, and two with advanced degrees – Ernie Hudson can play a variety of different roles in every medium including recurring roles on popular series such ABC Family's "The Secret Life of the American Teenager," TNT's "Franklin & Bash" or NBC's "Law & Order." Hudson's theatre work includes a starring role in Bart Sher's Tony-winning production of August Wilson's "Joe Turner's Come and Gone" at Lincoln Center's Belasco Theatre on Broadway. Hudson has a fondness for independent features and has starred opposite Joe Mantegna and Jay Mohr in "Lonely Street," in "All Hat" with Keith Carradine and Rachael Lee Cook; "The Man in the Silo," and Randall Miller's "Nobel Son" and "Marilyn Hotchkiss Ballroom Dancing and Charm School." He has also enjoyed starring roles in movies for television such as NBC's "Meteor" and Hallmark's miniseries "Final Approach" with Dean Cain and Anthony Michael Hall.
When he's not working, Hudson likes to spend time relaxing at home, and remains committed to developing all facets of his creativity, including his writing. "I love working – telling stories and creating projects. I'm starting to write more, and I love theatre. As an actor, I'm trying to find challenging roles where I can give physically as well as emotionally. It's a great time in my career; now, it's about the joy and the fun of it."
"I'm very blessed. My wife and I have been together for 33 years, she balances my life out. It's my acting career that has helped me hold my life together, and I'm just having a lot of fun."